Dear Friends
May and June were exceptionally busy months. We completed the historic black rhinoceros reintroduction to Zakouma National Park in Chad when on May 4th, six rhinoceros landed in Zakouma, where rangers saluted their arrival, and hundreds of community members welcomed their return. We received extensive global and national media coverage, both on this reintroduction and on the transformation Zakouma has undergone in the past seven years, the latter which made the front page of the NYT Sunday Travel section. The recent rains have produced enough browse which allowed for their release from their bomas into the wider sanctuary just last week. All rhinos are doing well. 
On June 11th, we commemorated Garamba's 80thAnniversary together with dignitaries, partners, representatives from the EU, USAID, and Randgold Resources, and over 1,000 community members. Presided over by the Director General of ICCN Cosma Wilungula, we celebrated the passing out of fifty newly recruited and trained rangers and symbolically burned part of Garamba's ivory stockpile. With the support and encouragement of ICCN, the financial and political support from the EU and USAID, and the financial support of the Wildcat Foundation, the World Bank, Kibali Goldmine and numerous private donors, our successive teams on the ground have taken up the challenge and have been able to build Garamba into a truly remarkable park operation. It was a memorable day, depicted in this short two-minute film "Garamba: A Story of Hope and Resilience".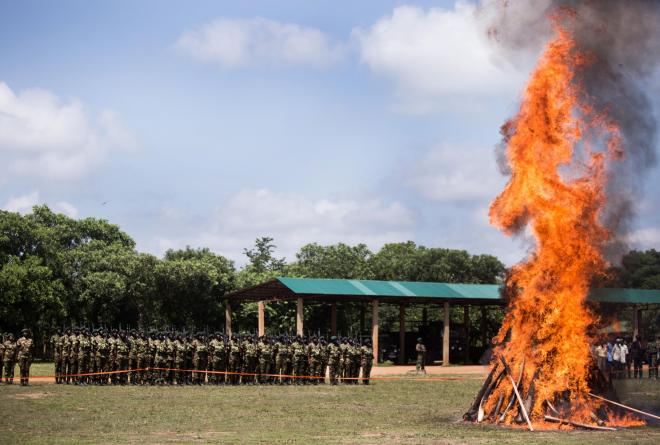 © Jean Labuschagne
In June, Liuwa hosted a visiting delegation of Members of Parliament, successfully showcasing the parks' efforts and progress. Their stay in Liuwa was featured by the Zambian National Broadcasting Corporation (ZNBC) television and in the Lusaka Times quoting the delegation as expressing confidence in the African Parks' model.
We were proud to learn that four of our rangers were awarded the inaugural Paradise Ranger Award. Established by the Paradise International Foundation and the Founder of Alibaba Jack Ma, the Ranger Award aims to support fifty rangers each year for ten years amounting to 500 rangers. I was honoured to serve on the review committee, where we received hundreds of applications. The  2018 recipients were selected based on the challenges they have had to surmount, the impacts they have made, and the commitment, leadership and inspiration they have given to conservation and to their own communities. We are extremely proud of Voster Mweene (Liuwa Plain), Kasereka Kisuki Alexandre (Garamba), Paul Kumwamba (Nkhotakota) and Tizola Moyo (Majete) who were recognized this first year. Voster will be attending the awards ceremony in Cape Town in August. 
In case you missed it, we sent out our electronic-version of our 2017 Annual Report titled "Restoration: Nature's Return" which can be downloaded here. Many of you will be receiving a hard copy in the coming days, if not already. I hope you enjoy reading about our achievements from 2017. Our successes are the successes of our government partners and funding partners alike, and it often strikes me how so few people can make such an incredible impact for the benefit of so many. On behalf of everyone at African Parks, I extend my sincere thanks to you all.
On the park development front, negotiations on Matusadona National Park in Zimbabwe were concluded, but it is likely that signature of the agreement will be delayed until after the national elections in August. 
Sincerely 
Peter Fearnhead 
CEO African Parks
Institutional Update

Fundraising: We were pleased to have received a US$10 million, five-year award from USAID for a project called "Community Based Countering Wildlife Trade" (CBCWT) in Central Africa. The commitment is focussed on sustainable community livelihoods to reduce the pressure of poaching, land and river degradation and illegal bushmeat consumption in the communities around Garamba, Chinko and Bili-Uélé protected areas. The project will be implemented in collaboration with African Wildlife Foundation (AWF) and Levin Sources. We were also very pleased to sign a EUR 2 million contract with the European Union to enhance regional law enforcement capabilities in the Democratic Republic of Congo, which includes support for Garamba and equipment for Virunga National Park's ranger teams.

Communications: May was dominated by the extraordinary news of the six black rhinos translocated to Zakouma National Park, where partners, including the Chadian and South African Governments and South African National Parks (SANParks), and international media hailed their return to the country for the first time in fifty years. Two on-site press events were held in Addo Elephant National Park, from where the rhinos departed, and in Zakouma National Park, which were attended by members of the local, national and international press in addition to dignitaries and senior representatives of all partners. Some of the key press coverage included newswires from the Associated Press, Reuters and Agence France-Press, and outlets including The New York Times, CNN, ABC News, the Independent, De Telegraaf, Midi Libre and France 24among many others. Zakouma was featured on the front page of the NYT Travel section in a wonderful review of the park. The Washington Post also featured African Parks in May, hailing it as a 21stcentury "Noah's Ark" where governments, donors, communities and conservationists are working together to ensure the survival of key species.

Recruitment:In recruitment for May and June, we are very pleased to have Sarah Vigliotti join the team as the Special Projects Manager for Garamba, Michel Henning as Workshop Manager and David McCririck as Logistics Manager for Chinko, Chiomba Frazer as the Financial Accountant for Liwonde, James Mwanza as Tourism Manager for Liuwa Plain and finally Aljarreu Gertze as African Parks' IT Technician based in Head Office. 

Parks in Development

Matusadona National Park, Zimbabwe: The board due diligence visit was completed between the 9thand 12thof April and the project was approved subject to the resolution of questions pertaining to the northern lakeshore boundary. Efforts to conclude the agreement are ongoing but are expected to be delayed by the imminent elections in Zimbabwe. 

Kafue National Park, Zambia: The Permanent Secretary in the Ministry of Tourism and Arts has verbally indicated that the Government is supportive of a public-private partnership for Kafue, and we hope to engage in formal negotiations in the near future. 

Benin: A committee has been established by the Government of Benin for a feasibility study into a public-private partnership as a mechanism to restore and develop W Park in Benin, and the terms of reference have been agreed. A budget and a memorandum of understanding assigning responsibility for the study to African Parks are being finalised. 

Nyungwe National Park, Rwanda:  A meeting was held with the CEO of the Rwanda Development Board (RDB) in Kigali on the 29thof May to discuss the future management in Nyungwe National Park. RDB will be embarking on a process to select a management partner and they wanted to be sure of African Parks' interest and willingness to do so. 

Operational Updates

Bazaruto Archipelago National Park, Mozambique: Bazaruto's second supervisory committee meeting welcomed Mozambique's recently appointed Director General of Conservation Areas Dr. Mateus Mutemba as the new Chairman. Significant advances have been made in the transition of daily management of park operations, and the process of seconding staff from the National Administration of Conservation Areas' (ANAC) to African Parks is underway. In terms of infrastructure, construction of the satellite management camp was completed, a new operations office is being rented and authorisation was received to begin development of law enforcement infrastructure. A three-month 'netting' ban was enforced from the 1stof May, temporarily closing the use of large and indiscriminate nets to reduce pressure on in-shore fish stocks. The park also commemorated World Oceans Day on the 8thof June by participating in a 20-kilometre beach clean-up. 

Chinko, CAR: The 380 internally displaced persons, who were given refuge in Chinko for over a year, have safely reintegrated in their community having voluntarily returned, and are rebuilding their homes and livelihoods with the help of provisions and materials provided by the park. Good interaction has been maintained with the population, who remain grateful for Chinko's support. In June, all of the park's rangers received refresher training to reinforce skills and improve their tactical and technical firearm knowledge. Community teams held engagement exercises with people in neighbouring Bakouma to increase awareness of Chinko as a conservation area, and also extended support to the local high school. Law enforcement successfully maintained a safe core area of 3,000 km2 for wildlife, and animal sightings continued to show an increase, for the same period compared to last year, and included verified sightings of chimpanzees. 

Akagera National Park, Rwanda: We are very pleased to share that Wilderness Safaris will be opening a magnificent new six-tented camp, called Magashi, towards the end of 2018. Preparations to initiate construction are now underway, having received approval of the environmental impact assessment. Positioned in the north-eastern part of Akagera, the camp will overlook Lake Rwanyakazinga. The seasonal Karenge Bush Camp was re-erected for the tourist season beginning in June. Patrol coverage of the park was improved using a more effective deployment strategy, and each ranger was provided with a field medical kit. A two-week botanical field survey was conducted in June to create a comprehensive list of the plant species which occur in Akagera. The lions are being seen regularly, with the first consistent sightings being made of a cohesive group of nine. 

Zakouma National Park, Chad: The success of translocating six black rhinoceroses from South Africa to Zakouma, which reintroduced the endangered species to the country for the first time in 50 years, hailed a milestone for the park. The arrival of the rhinos on the 4thof May was celebrated with the attendance of representatives from key parties including the Chadian and South African Governments, and both local and international media, generating far-reaching global coverage of the historic occasion. Each rhino was de-horned and fitted with a VHF transmitter for tracking purposes, and with the wet season well underway in June all six were safely released into the sanctuary. The rhinos will continue to be monitored on a daily basis by specialised law enforcement teams. We received extremely positive results from an aerial survey made in April, which indicated that the elephant population has grown to 559 individuals, from 483 in 2016, and the Kordofan giraffe population has grown to 1,233 individuals, from 947 in 2016. Field operations commenced in Siniaka Minia Faunal Reserve, where a temporary forward operating base was established in June. Teams initially focussed on engaging and sensitising communities, both nomadic herders and local villages, and concentrating efforts on the perimeter of the park while accessibility within it remains limited.

Garamba National Park, DRC: Garamba commemorated its 80th year anniversary on the 13th of June with an extremely successful event which was attended by His Excellence the Governor of the Haut-Uele province, dignitaries, partners, representatives from the EU, USAID, and Randgold Resources, and over 1,000 community members. Presided over by the Director General of ICCN Cosma Wilungula, the event celebrated the passing out of fifty newly recruited rangers and symbolically burned part of Garamba's ivory stockpile. Garamba's extraordinary progress was featured in a widely picked-up article published by the Associated Press. While there have been several strong developments for the law enforcement team, a particular highlight in May was news that Ranger Kasereka Kisuki Alexandre was one of fifty rangers in Africa recognised by the 2018 Paradise Ranger Award, an extraordinary honour, for his exceptional commitment to providing security for Garamba and its wildlife. As part of its healthcare services, Garamba's mobile clinic extended treatments to over 1,100 people over May and June.  

Bangweulu Wetlands, Zambia: It has been an incredibly productive two months for Bangweulu. In terms of tourism infrastructure, Shoebill Island Camp is near completion with final interior and electrical fittings being made and staff appointed before the soft opening in June. Nkondo Camp opened a full board tourism facility and has since been fully booked for the coming weeks. In law enforcement, sustained efforts are contributing to a downward trend in poaching activity. Community household incomes have steadily increased as a result of improved fish catches following the success of the seasonal fishing ban, which enabled fish stocks to recover. Communities benefitted from further educational outreach as the ZeduPad (a tablet preloaded with educational materials) centre has been opened for adult-based learning. 

Liuwa Plain National Park, Zambia: The Minister of Works and Supply, Felix Mutati and Minister of Tourism Charles Banda visited Liuwa in May as part of a fact-finding mission. Both were very impressed and described the park as "a goldmine of the Western Province". In June, Liuwa also hosted a visiting delegation of Members of Parliament, successfully showcasing its efforts and progress. Their stay in the park was featured positively by the Zambian National Broadcasting Corporation (ZNBC) television and again in the Lusaka Times quoting the delegation as expressing happiness with African Parks' conservation model. We are very proud of Liuwa's Park Ranger Voster Mweene, who was honoured by Alibaba founder Jack Ma's Paradise Foundation International in their inaugural 2018 Ranger Awards, and who will attend the award ceremony as a top ten finalist in Cape Town in August. There has been good momentum on the construction of the new headquarters within the park, with several buildings at various stages of development. Liuwa Plain was recognised as a key supporter and Park Manager Deon Joubert made an address at the Libonda Kuomboka ceremony, when Her Royal Highness Senior Chieftainess Mboanjika moved by barge from her summer to her winter palace. There have been several recent births among the predator populations, including a confirmed lion cub, nine hyaena cubs and a sighting of four cheetah cubs in June. 

Liwonde National Park, Malawi: Four lions, comprising two males from Majete and two females from South Africa, were released into the wider park from bomas where they had been held for several weeks to enable their bonding. Both the recently introduced lions and the cheetahs continue to be monitored and are in good condition. May marked the anniversary of one year in which not one elephant has been poached in the park, which together with the declining number of wire snare traps are indicative of the significant progress that has been made in countering threats. The park collared six elephants as part of its efforts to monitor their activity and mitigate human-elephant conflict. Liwonde's management commenced activities in Mangochi Forest Reserve, where law enforcement teams are already having a significant impact on curbing illegal activities. Thirteen rangers participated in training exercises with British Military officers as part of a familiarisation phase at the park's training centre prior to the British Military's deployment to Majete and Nkhotakota. 

Nkhotakota Wildlife Reserve, Malawi: Seven British Military soldiers were deployed to Nkhotakota in June to begin a short-term mentorship training programme with the reserve's rangers aimed at further advancing their tracking skills. One of Nkhotakota's remarkable rangers, Paul Kumwamba, was selected as a recipient of the prestigious Paradise Ranger Awards – a reflection of his 22 years of leadership and dedication to the conservation field in Malawi.  The park continued to monitor and respond to elephant break-outs, which declined markedly in June. Additionally, it trained 20 fence attendants and 18 law enforcement staff in fire prevention and suppression with the support of the United States Forest Service (USFS), which also generously donated firefighting equipment. Community infrastructure projects saw positive development, with the park commencing construction on bridges, a school block and teachers' accommodation. Furthermore, a completed school block with three furnished classrooms was officially handed over in a ceremony to the Ministry of Education. 

Majete Wildlife Reserve, Malawi: There have been several key developments in law enforcement over May and June. Three rangers completed training in the conduct of investigations; and seven soldiers from the British Military arrived in Majete to begin a three-month mentorship training with forty rangers to exchange and develop field skills. Majete's Deputy Law Enforcement Officer Tizola Moyo was one of the fifty finalists who received the Paradise Ranger Award for his long-standing contribution to conservation in Malawi, of which we are extremely proud.  In May, Majete received two young male lions from a reserve in South Africa, and both will remain in a boma to be bonded with female lions due to be translocated in July. The introduction of additional lions is aimed at diversifying and growing the current population to ensure its long-term viability. The community bee-keeping project, which is being run in partnership with the Bee Parks Trust to establish a productive alternative livelihood scheme, made good progress with 80 of 216 hives ready for harvesting.

Odzala-Kokoua National Park, Congo: Good progress was achieved on multiple law enforcement projects, including the completion of a new law enforcement camp to launch patrols and increase coverage in the south-east of the park. With both African Parks' Chief Instructor for Francophone Parks and the Head of Law Enforcement visiting Odzala in May, additional training sessions were held for rangers. The team's proactive efforts also led to the discovery and subsequent destruction of 11 poaching camps over the eight-week period and to the swift recovery of tusks from an elephant carcass discovered prior to the poachers being able to extract them. The gorilla habituation process, which was initiated to improve the tourism product, has developed well in fostering the group's tolerance of human presence. To contribute to the enrichment of local livelihoods, 21 community micro-projects spanning 14 villages in the district were approved for funding, including projects for the improvement of water resources and agriculture; and in June the park's mobile clinic extended services to 168 people in two villages.                                                                                               

Pendjari National Park, Benin: A graduation ceremony, attended by a representative for the Ministry of Environment and other Government authorities, was held in May for the successful ranger recruits from the second basic field ranger training. The third basic field ranger training course was also concluded with 31 candidates which for the first time included women; the total number of qualified rangers in the park's Special Brigade now stands at 101 people.  An additional eight lions were equipped with tracking collars in June to improve monitoring of the population. The Pendjari Hotel management contract was signed, enabling African Parks to take responsibility for the management and development of the hotel for two years from the start of June. A new director for the hotel has taken up position and is already implementing needed rehabilitation work and securing new equipment.   

Key Media

Media highlights for African Parks for May and June 2018 included coverage by The New York Times, The Washington Post, CNN, BBC News, Reuters, Associated Press, AFP, ABC News, The Telegraph, The Independent, France 24, Conde Nast, South China Morning Post, among others. 

WILD BLACK RHINOS TO RETURN TO CHAD AFTER A 50-YEAR ABSENCE/ LES RHINOCEROS NOIRS SAUVAGES REVIENNENT AU TCHAD 50 ANS APRES LEUR DISPARITION| African Parks, 3 May 2018 | An unprecedented collaboration between the South African and Chadian Governments, SANParks and African Parks, is enabling the translocation of critically endangered black rhinos from South Africa to a secure park in Chad on the 3rd of May, reintroducing the species to the country after almost fifty years of local extinction.

CHAD GETS SIX RHINOS NEARLY 50 YEARS AFTER LOSING THE SPECIES| Associated Press, 3 May 2018 | Six critically endangered black rhinos are being transported from South Africa to Chad, restoring the species to the country in north-central Africa nearly half a century after it was wiped out there.

RHINOS TO RETURN TO CHAD IN AIRLIFT AFTER FIVE-DECADE ABSENCE| Reuters, 3 May 2018 | almost 50 years after they were hunted to local extinction, black rhinos will again roam the wilds of the Central African nation of Chad, the latest chapter in a movement to bring big mammals back to former ranges on the continent.

WATCH: BLACK RHINOS BEING REINTRODUCED TO CHAD| CNN, 3 May 2018 | An ambitious project is returning endangered black rhinos to places where they haven't been seen in years. CNN's Robyn Kriel reports.

BLACK RHINOS RETURN TO CHAD, NEARLY FIFTY YEARS AFTER LOCAL EXTINCTION| ABC News, 3 May 2018 | Six black rhinos were flown thousands of miles across the African continent today to Chad, where they had been relentlessly hunted to local extinction almost 50 years ago.

ZES NEUSHOORNS OP TRANSPORT NAAR TSJAAD| De Telegraaf, 3 May 2018 | De dieren worden verdoofd en in verstevigde kisten gezet en daarna vanaf Port Elizabeth naar Tsjaad gevlogen. De organisatie African Parks heeft de leiding over het Zakouma National Park. Eerder zette die organisatie Zuid-Afrikaanse leeuwen en neushoorns uit in Rwanda.

CHAD GETS SIX BLACK RHINOS, 50 YEARS AFTER LOCAL EXTINCTION| CGTN, 4 May 2018 | Last year, governments of South Africa and Chad had collaborated with South African National Parks (SANParks) and African Parks to launch a conservation initiative to re-introduce black rhinos in Zakouma.

SIX RHINOCEROS NOIRS ENVOYES AU TCHAD POUR REPEUPLER UN PARC NATIONAL| Sciences et Avenir, 4 May 2018 | 6 rhinocéros noirs provenant d'Afrique du Sud ont commencé leur périple jusqu'au Tchad où ils vont pouvoir repeupler le parc national de Zakouma.

WATCH: LE RETOUR DES RHINOCEROS NOIRS AU TCHAD| France 24, 4 May 2018 |

BLACK RHINOS RETURN TO CHAD 50 YEARS AFTER POACHING WIPED THEM OUT| The Independent, 5 May 2018 | Black rhinos have been reintroduced to Chad 50 years after they were wiped out there entirely by poaching.

DISPARUS DEPUIS 50 ANS, SIX RHINOCEROS NOIRS DE RETOUR POUR REPEUPLER LE TCHAD| Midi Libre, 5 May 2018 | Le repeuplement des rhinocéros noirs au Tchad a débuté. Voilà un demi-siècle que ces terres d'Afrique centrale n'avait plus vu un de ces pachydermes. Six rhinocéros noirs ont quitté leur réserve d'Afrique du Sud ce jeudi 3 mai pour un long voyage jusqu'au Tchad.

BLACK RHINOS RETURN TO ZAKOUMA NATIONAL PARK IN CHAD| Mongabay, 7 May 2018 | The NGO African Parks and its partners in South Africa and Chad reintroduced six black rhinos to Zakouma National Park on May 4. Chad's oldest national park had not had rhinos since the early 1970s, when they were wiped out by hunting.

Conde Nast Traveler: 

The reemergence of Liuwa Plain, a breathtakingly dramatic national park in the country's west, changes everything… Following 15 years of work by the conservation agency African Parks, the only rattle comes from dramatic thunderstorms, which roll in like black ink blots across an empty sky.

TCHAD: FAUNE – AFRICAN PARKS REPLACE LES RHINOCEROS SUR LEUR AIRE DE ZAKOUMA| All Africa, 9 May 2018 | L'organisation sud-africaine a reintroduit six specimens dans le site base au Tchad, le 4 mai, dans le cadre de la preservation et de la viabilisation des especes animalieres rares. 

MUTATI HAPPY WITH KALABO DISTRICT'S TOURISM POTENTIAL| Lusaka Times, 10 May 2018 | Minister of Works and Supply, Felix Mutati has described Liuwa National Park in Kalabo as a goldmine of the Western Province. Mr. Mutati said the place harbours a lot of potential for both job creation and wildlife conservation for the growth of tourism.

THE LEGENDARY NATIONAL PARK YOU'RE NOT SUPPOSED TO VISIT|The Telegraph, 11 May 2018 | Those in the know mention Zakouma with reverence, hushed awe and longing... African Parks have been here only eight years, but they have pulled off something significant: securing the park, reducing poaching to almost zero and allowing animal populations to recover.

AKAGERA PARK: A SAFE HOME FOR AFRICA'S BIG FIVE| National Geographic Blog, 11 May 2018 | Akagera National Park is the biggest park in Rwanda, covering 433 square miles (1,122 sq km) and the only savanna park in this beautiful country of a thousand hills. It was among the first parks to be created in Africa.

SIX ENDANGERED BLACK RHINOS FLOWN FROM S. AFRICA TO CHAD| AFP, 11 May 2018 | Six South African black rhinos have made the long journey to Chad as part of an ambitious re-population project set in the Central African country where the species were hunted into extinction nearly half a century ago. Watch video.

The New York Times: 

Although few Westerners have heard of it, Zakouma is home to one of the most stunning conservation success stories in Africa… After a several-year stretch with very few births, the elephant population has once again begun growing, and six black rhinos arrived this month from South Africa.

MOZAMBIQUE'S BAZARUTO ARCHIPELAGO OFFERS LUXURY ESCAPES WITH HORSES| CNN Travel, 16 May 2018 | Mozambique's coastline stretches about 2,470 kilometres along the warm waters of the Indian Ocean, and most of its beaches remain in pristine condition without hordes of tourists or tacky boardwalks. But even in a country blessed with immense natural beauty, the Bazaruto Archipelago, a group of six islands off the coast of Vilankulo, are a standout destination.

SIX RHINOCEROS NOIR ONT TRAVERSE L'AFRIQUE EN AVION| Mon Quotidien, 17 May 2018 | Début mai, 6 rhinocéros noirs ont été transférés de leur réserve, en Afrique du Sud, au parc national de Zakouma, au Tchad (Afrique). Au Tchad, les rhinocéros noirs avaient disparu depuis 1972. 

SAVING AFRICA'S WILDLIFE| The Washington Post, 18 May 2018 | A 21st-century Noah's ark transports animals back to places where they've been wiped out. African Parks, the nonprofit organization that arranges the shipments of the animals, aims to restore populations that once existed in some of the world's most remote places.

THE FUTURE OF TRAVEL: WHERE WILL 2020 TAKE US?| Robb Report, 23 May 2018 | Featuring experts' opinions on the next-generation destinations that prove the future is right around the corner, the Robb Report calls Zakouma "nothing short of mind-blowing – it's probably the best national park I have visited in Africa".

18 BEST PLACES TO TRAVEL FOR THE SUMMER OF 2018| CNN Travel, 25 May 2018 | CNN lists Malawi as a top emerging travel destination. In-the-know travelers head to Majete Wildlife Reserve, Liwonde National Park and Nkhotakota Game Reserve for fewer crowds and an increased chance of animal sightings.

HOW CHAD'S ZAKOUMA NATIONAL PARK BECAME ONE OF AFRICA'S GREATEST CONSERVATION SUCCESS STORIES| Lonely Planet, 27 May 2018 |

Since 2010, the area has been managed by African Parks, a South African-based NGO, and their biggest challenge was to reduce the rampant poaching in the area. After a decade of strident measures, Zakouma National Park has not experienced a poaching incident since January 2016.

SECURISATION DU PARC NATIONAL DE LA PENDJARI: 'LES GUEPARDS' INTEGRENT LES RANGERS| Le Matinal, 28 May 2018 | Les acteurs du développement du Parc national de la Pendjari ont sanctionné la formation de la deuxième promotion des recrues de lutte anti-braconnage. Ils ont remis samedi 26 mai 2018 des attestations aux « Guépards » qui intègrent les « Rangers » d'African Parks, Ong investie de pouvoir pour faire de la Pendjari un Parc d'attraction et une véritable destination au Bénin.

UGANDA: KONY SURVIVING ON IVORY DEALS – FORMER CAPTIVE| All Africa, 30 May 2018 | The Lord's Resistance Army (LRA) rebel commander, Joseph Kony, is increasingly amassing resources through lucrative deals in ivory from the DR Congo, a defector has said. 

WILDERNESS SAFARIS REVEALS MAGASHI TENTED CAMP| Sleeper Magazine, 31 May 2018 | Wilderness Safaris has joined forces with the Rwanda Development Board and conservation group African Parks to create Magashi, a six-tented camp in Akagera National Park.

TAKING OFF: WILD SIDE | The Times, 3 June 2018 | This December, Wilderness Safaris is expanding its ecotourism footprint in Rwanda (having opened the Bisate camp there last year) with a new addition: Magashi camp in the Akagera National Park.

GIRAFFE EXPERT RAISES FEARS THE ANIMAL FACES EXTINCTION IF CONSERVATION EFFORTS DON'T HAPPEN SOON| South China Morning Post, 12 June 2018 | Dr Julian Fennessy wants action taken urgently as the giraffe population has experienced a rapid overall decline of 40 per cent in the last three decades… "African Parks is a network doing an amazing job helping to manage parks across Africa with governments," he adds.

DRC'S GARAMBA NATIONAL PARK HAILS HOPEFUL TURNING POINT AT 80TH YEAR ANNIVERSARY COMMEMORATION| African Parks, 13 June 2018 | The Democratic Republic of Congo's Institut Congolais pour la Conservation de la Nature (ICCN) and conservation organization African Parks commemorated the 80th year anniversary of Garamba National Park on Wednesday 13th of June.

Click here for the French Press Release 

DRC'S GARAMBA NATIONAL PARK HAILS HOPEFUL TURNING POINT AT 80TH YEAR ANNIVERSARY COMMEMORATION| Yahoo Finance, 13 June 2018 | The Democratic Republic of Congo's Institut Congolais pour la Conservation de la Nature (ICCN) and African Parks commemorated the 80th year anniversary of Garamba, one of Africa's oldest national parks, on June 13th.

50 INCREDIBLE SAFARI HOLIDAYS | The Telegraph, 13 June 2018 | The Telegraph lists Zakouma, Liuwa Plain and Bazaruto Archipelago National Parks as three of the top 50 incredible safari holidays.  

ZAMBIA PARLIAMENTARY CONSERVATION CAUCUS HAPPY WITH AFRICAN PARKS' CONSERVATION MODEL IN LIUWA | Lusaka Times, 26 June 2018 | The Zambia Parliamentary Conservation Caucus (ZPCC) has expressed happiness with the conservation model of African Parks in Bangweulu Wetlands and Liuwa Plain National Park.