Obama Foundation Program Recognizes Two African Parks Employees as Rising Leaders in Africa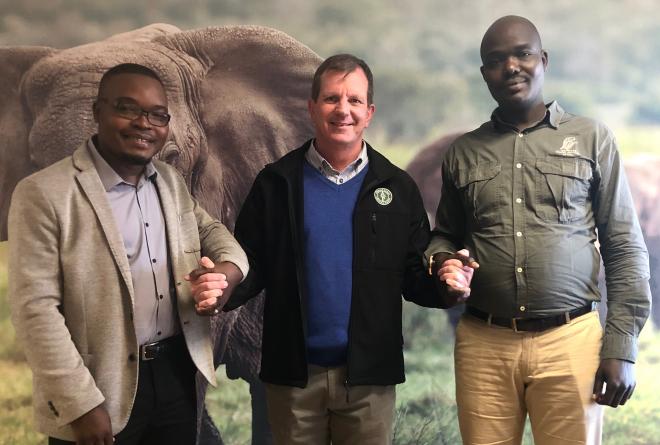 Johannesburg, South Africa: African Parks is proud to announce that two dedicated members of staff, Institutional Funding Manager Hugues Akpona and Garamba National Park's Head of Law Enforcement Pascal Adrio, have been recognized as rising leaders by the Obama Foundation Leaders: Africa program for 2019.  Initiated last year, the highly competitive program brings together 200 emerging leaders from 45 countries across the continent. This diverse group convened in Johannesburg over July 10th to 14th  to kick off a year-long leadership development program to build on the participants' successes to further serve their respective fields and communities.
African Parks' CEO Peter Fearnhead said "The recognition and cultivation of strong leadership is of the utmost importance to conservation in Africa, and to building a future in which development can work hand in hand with conservation to deliver opportunities for both people and wildlife to thrive." He continued, "we could not be prouder of Hugues Akpona and Pascal Adrio, whose commitment to their work in our field is contributing to positive change and inspiring other young people to do the same. We congratulate both of them on this tremendous accolade from the Obama Foundation Leaders: Africa program, which is providing a critical career development platform for emerging leaders on the continent."   
The Leaders: Africa gathering, which begun in Johannesburg on July 10th, included plenary sessions, skills-building workshops, leadership development training and opportunities for connection among leaders across sectors and geographies. Through these sessions, the participants grappled with challenges and worked on creative, values-driven approaches to problem solving. They explored how their personal narratives can be used to support and enhance their leadership. Virtual programming will continue throughout the year, providing a speaker series, technical trainings, educational workshops, action plan guidance, and support and amplification from the Foundation.
 "It is a great honour to have been selected by the Obama Foundation Leaders: Africa program for the class of 2019. Leadership is key to building a more prosperous continent for the next generation, and we each have an important role to play in making this happen and inspiring forward momentum in more young leaders" said Hugues Akpona, African Parks' Institutional Funding Manager. "I look forward to participating in the program over the course of this year and utilizing the tools, energy, networks and ideas gained to help drive sustainable development in Africa. Development would not be effective without the conservation of our valuable natural heritage, our wildlife and wildlands, which we need to take the lead in preserving for tomorrow". Hugues Akpona is a conservation professional from Benin with over 15 years' cumulative experience in conservation project management and leadership positions in Africa. He is founder of two associations working on nature conservation, poverty alleviation and food security, and is passionate about developing thinking to shape the mentality, vision and self-trust in young Africans to raise their potential and contribution to the continent.
Pascal Adrio is Head of Law Enforcement in Garamba National Park in the Democratic Republic of Congo, where he has helped to transform the security of the park for the benefit of wildlife and over 100,000 people living around it. "This program offers me an opportunity to inspire future leaders to drive change in their communities, and to understand why it is so important to protect our beautiful landscapes" said Mr. Adrio, continuing "Through Obama Foundation Leaders: Africa, I hope to promote the conservation of natural resources at local, national and international levels".
"The Obama Foundation Leaders: Africa program builds on the success of the 2018 inaugural class, bringing together a committed and diverse group of change makers from across Africa," said Bernadette Meehan, Chief International Officer of the Obama Foundation. "Our program will gather together hundreds of emerging African leaders who display a passion for working in their communities, and it will inspire, empower, and connect these participants who are ready to take bold steps in their work. We are excited to support this class of groundbreakers as they strive to change the world."
About African Parks Network: African Parks is a non-profit conservation organization that takes on the complete responsibility for the rehabilitation and long-term management of national parks in partnership with governments and local communities. With the largest counter-poaching force and the most amount of area under protection for any one NGO in Africa, African Parks manages 15 national parks and protected areas in nine countries covering over 10.5 million hectares in Benin, Central African Republic, Chad, the Democratic Republic of Congo, the Republic of Congo, Malawi, Mozambique, Rwanda, Zambia. For more information, visit www.africanparks.org
Read French Press Release
The Obama Foundation Leaders: Africa Programme 2019