Rhinos Return to Chad
Watch now: The rare black rhino has been returned to the nation of Chad. The last wild rhino was seen in this central African country in the 1970's after decades of poaching drove them to local extinction. In a historic move to aid in the long-term survival of this endangered and heavily threatened species, six black rhinos were reintroduced from South Africa to Chad in May 2018.
The Translocation
The Governments of South Africa and Chad signed a memorandum of understanding in October 2017 to enable the translocation of a founder population of black rhinoceros to Zakouma National Park, reintroducing the species to the nation since its local extinction in the early 1970's. Following two years of substantial planning to ensure for the animals' safety and wellbeing, on Wednesday the 2nd of May up to six black rhinoceroses are being loaded from bomas in a holding facility in the Eastern Cape in South Africa and will be flown to Zakouma. The rhinos were sourced by SANParks from a National Park in South Africa and were transferred to the Eastern Cape earlier this year to allow for a sufficient period of adjustment and monitoring in purpose-built bomas in the park before their final translocation to Chad. 
Following their arrival at the heavily secured park, they will be released for a short period into bomas (holding pens) before being released into a temporary sanctuary to familiarise the animals with their new home and give them a chance to settle after their long journey before being released into the wider park.
The rhinos are being generously made available to The Republic of Chad by the South African Government under a joint MOU. These rhinos will be looked after by African Parks as part of its overall responsibility for the total management of Zakouma and managed in accordance with a verified rhino management programme.
Planning and Protection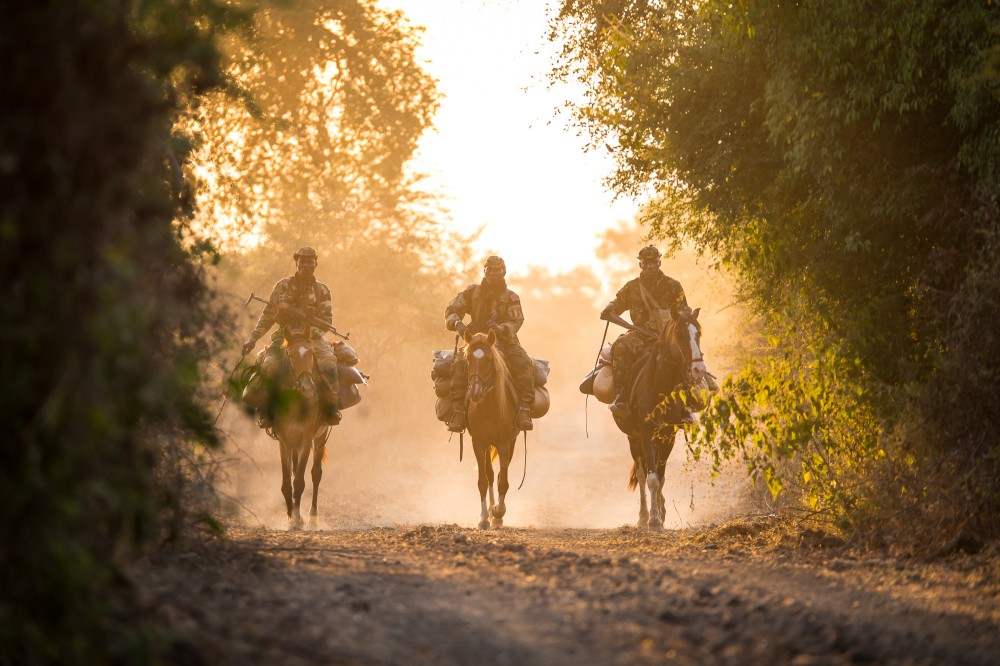 © Kyle de Nobrega
Zakouma National Park staff have undertaken years of research, planning and preparation and received training in rhino tracking and monitoring to ensure the best possible outcome for rhinos in the region. Consultation with experts and specialist groups also occurred to secure a genetically appropriate and available source of the black rhino for reintroduction. 
Security measures have been implemented specifically to ensure the safety and well-being of the rhinos in the park. A dedicated rhino ranger unit has been established and received advanced training to ensure the rhinos are well protected. In addition to their well-equipped law enforcement team, aerial surveillance and numerous other security measures have been implemented specifically for the reintroduction of rhino. Since 2010, when African Parks first assumed responsibility for managing Zakouma, poaching levels have been at an all-time low, and numerous species have rebounded in the park.
This is not the first time African Parks has undertaken the translocation of this endangered species. In May of 2017, in collaboration with the Rwandan Development Board (RDB) and the Howard G. Buffett Foundation, African Parks successfully translocated 18 black rhinos to Akagera National Park in Rwanda, bringing the species back after a decade, and returning them to a secure park. In 2003, African Parks also reintroduced black rhinos to Majete Wildlife Reserve in Malawi, where since their arrival, not one has been lost to poaching.  
Rhinos in Zakouma
Zakouma was historically home to a diversity of large African mammals, many of which were sadly hunted to local extinction over recent decades. Since 2010, African Parks has partnered with the Government of Chad with a vision of restocking the park with species that have become locally extinct and securing their long-term protection.
The reintroduction of the black rhino forms part of this vision. Their return is a key milestone towards restoring Zakouma to its previous natural glory for the country and its people. The homecoming also elevates the park's international profile, boosting the local economy, directly benefiting local communities, helping to establish the park as a valued national asset, and helping to solidify Zakouma as a flagship park in showing what is possible with ecological restoration. 
Rhinos in Perspective 
The brutal onslaught of poaching on rhino populations across Africa has resulted in fewer than 25,000 rhinos remaining in the wild in Africa (approximately 5,000 black rhinos and 20,000 white rhinos). Rhinos are one of the most threatened species on the planet and are heavily targeted by poachers across their range for the sale of their horns, which are made up of nothing more than keratin (the same protein found in our hair and nails) but can fetch up to $60,000 per kilogram. That makes rhino horn the most expensive product on the planet and is driving this species towards extinction.
This translocation represents an urgent and valuable opportunity to expand the range and protection of this iconic species.
Learn more about Zakouma