Sketching a Future for Garamba's Elephants
Sketch for Survival fund-raising initiative to support anti-poaching teams in Garamba, DRC
Sketch for Survival is a touring wildlife art exhibition and affordable art auction in aid of wildlife conservation organised by UK conservation charity Explorers against Extinction (registered UK charity No 1177505). 
On average one African elephant is poached for its tusks in the wild every 26 minutes. In order to raise awareness about this shocking statistic and highlight the threats facing many of the world's most iconic species, Explorers against Extinction turned to the art community and its celebrity supporters for help. They asked them to spend just 26 minutes on a sketch or to donate an artwork of an endangered species for their touring Sketch for Survival exhibition. Profits from the online auction of artwork go to support wildlife conservation.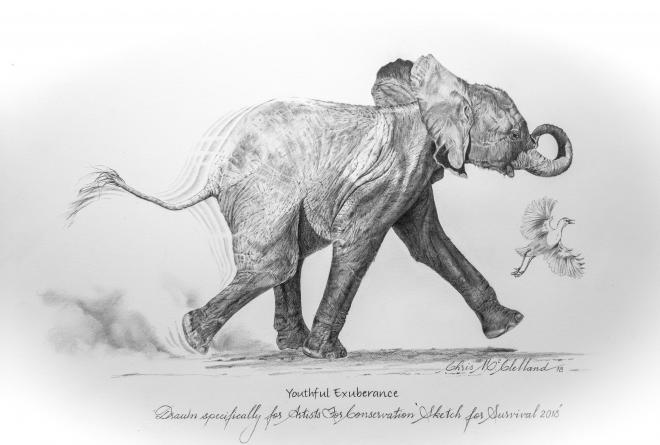 © Chris Mcelland
The primary project Explorers against Extinction has chosen to support this year is the new working dogs programme in Garamba National Park, Democratic Republic of Congo. Garamba, which has been managed by conservation organization African Parks since 2005 with the ICCN, is one of Africa's most ancient and biologically significant parks has been hard hit by poaching. Elephants in Garamba have historically been poached at an alarming rate and the population has been experiencing negative population growth. In the 1970s there were as many as 22,000 elephants in Garamba but today only around 1,200 remain. While a revised law enforcement strategy enacted in 2016 saw a reduction of elephant poached by 50% in 2017, and in 2018 only two known elephants have been killed, a canine unit will help better equip Garamba's teams to more effectively address these threats. As John Barrett, General Manager of Garamba National Park says, "It is a very exciting time as we open our working dogs programme in Garamba National Park. We see enormous potential in the current approach employed by our Law Enforcement division and adding a tremendous detection capability, like that offered by working dogs, will be a key addition to the Park's overall law enforcement strategy and ability to confront illegal wildlife trafficking. We are grateful for the support of the EU and Explorers Against Extinction in enabling this to take place."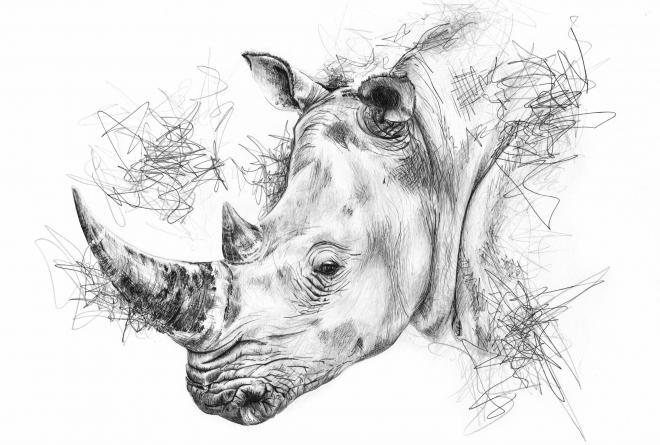 © Kate Strom Fields
The 2018 Sketch for Survival collection has over four hundred artworks from artists in more than thirty different countries. More than sixty rare species are depicted from pangolins and polar bears to orangutans and elephants. Celebrity supporters including Dame Judi Dench, Sir Ranulph Fiennes, Dame Helen Mirren, Nick Park, Mary Berry, Stephen Fry, Richard E Grant and Frederick Forsyth.The tour visit seven venues in five cities including prestigious gallery@oxo in London and The Salmagundi Club in New York this autumn. The complete collection was revealed for the first time on World Rhino Day, 22nd September 2018. Visitors to the website will also be invited to register for the online auction which concludes on Sunday 25 November. 
To find out more please visit Explorers against Extinction.