Chad Expands Conservation Area Under New Agreement
The Government of the Republic of Chad signs a new agreement with African Parks to expand the management and protection of a greater conservation area with Zakouma National Park at its core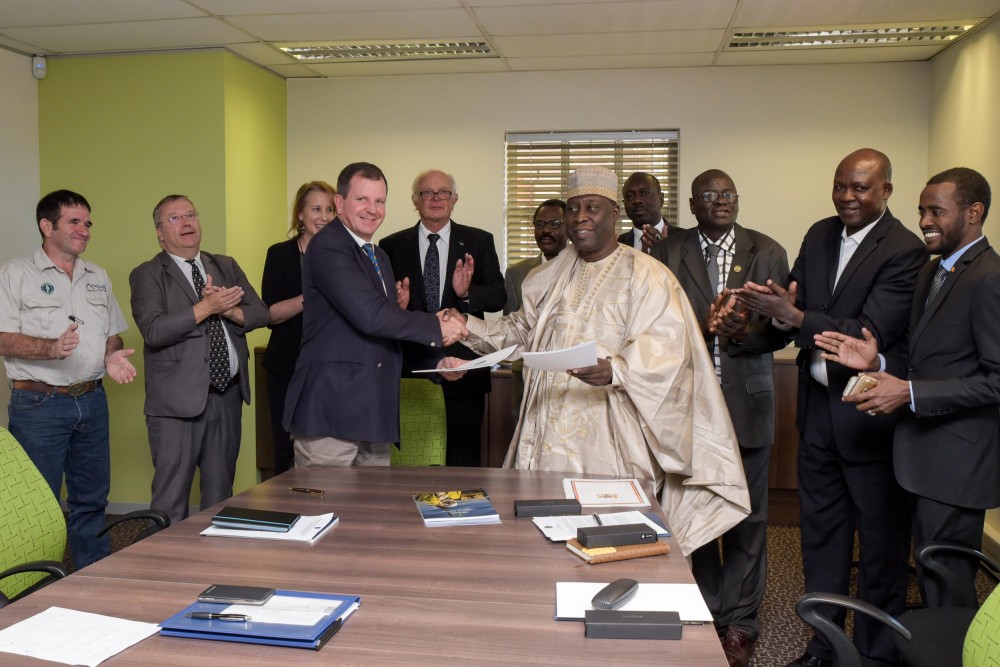 © African Parks
Johannesburg, South Africa: The Government of the Republic of Chad and the conservation NGO African Parks announced on Tuesday October 10th the signing of an agreement for the management and protection of an expanded territory of critical conservation areas, including key peripheral reserves Siniaka Minia, Bahr-Salamat and adjoining wildlife corridors to create the Greater Zakouma Functional Ecosystem. African Parks, which manages protected areas on behalf of governments across Africa, has managed Zakouma National Park since 2010. The results achieved in Zakouma enabled the extension of the mandate to assume management of a much larger landscape, securing vital habitats beyond the national park for the benefit of local communities and wildlife.
Located between the Sahara Desert and the fertile rainforest regions of Central Africa, Zakouma National Park is a unique Sudano-Sahelian wilderness that is a refuge for some of the most important wildlife populations of West and Central African species. Among these are lion, Kordofan giraffe and the country's largest population of elephants, which was reduced by 95% due to rampant poaching between 2002 and 2010. In the seven years since the Government of Chad delegated management to African Parks, extensive law enforcement measures and community programmes have seen poaching practically eliminated and the elephant population is on the increase for the first time in a decade.
"The Government of Chad has shown extraordinary vision in committing to the conservation of its irreplaceable parks" said African Parks CEO Peter Fearnhead. "Through our partnership in Zakouma, our actions have produced stability and security for both local communities and wildlife, paving the way to incorporate the Siniaka Minia and Bahr-Salamat Wildlife Reserves, and important corridors between them within our management mandate. We are immensely grateful for our partnership with the Government of Chad, and for the support of the European Union and other funding partners who have made this possible".
The key priorities for management will be to reduce poaching activity and human-wildlife conflict through the improvement of law enforcement and anti-poaching systems. They also include wildlife monitoring; infrastructural development; recruitment and training of staff to promote national capacity; and an overall contribution to socio-economic growth. In addition, on Sunday, October 8th, the Governments of Chad and South Africa signed a Memorandum of Understanding (MoU) to enable African Parks to translocate a founder population of black rhinoceros from South Africa to Zakouma National Park for reintroduction to Chad next year. The black rhinoceros was last seen in Chad in the late 1980s. This commitment to fortifying security and eliminating poaching to facilitate the safe return of key species forms a critical component of the restoration of Zakouma, and the larger ecosystem.
"We are extremely proud of what has been achieved in Zakouma National Park." Said Chad's Minister of Environment and Fisheries Dr Ahmat Mbodou Mahamat, "It is a demonstration to the world of what is possible, and of how much more can be gained through effective protection of our natural resources. The satisfactory results that we have achieved in this public-private partnership stem from the foresight of His Excellency Mr. Idriss Deby Itno, President of the Republic, Head of State. The conservation and sustainable management of resources is in perfect coherence with Chad's 2030 vision and the objectives of sustainable development."
The signing of an agreement for the management of the Greater Zakouma Functional Ecosystem is a significant step in securing migration corridors and vital range habitats. "The Chad-EU cooperation has enabled the success of Zakouma National Park, and the extension of a conservation management mandate for African Parks will increase its footprint over a larger area." Said the Ambassador of the European Union in Chad, Madame Denisa-Elena Ionete, "Experience also demonstrates the close links between safety, development and environmental conservation: safety has improved considerably around the park thanks to the effective anti-poaching mechanism set up in cooperation with the security forces. Socio-economic development has been fostered through the creation of jobs, the promotion of tourism revenues and local enterprise development"