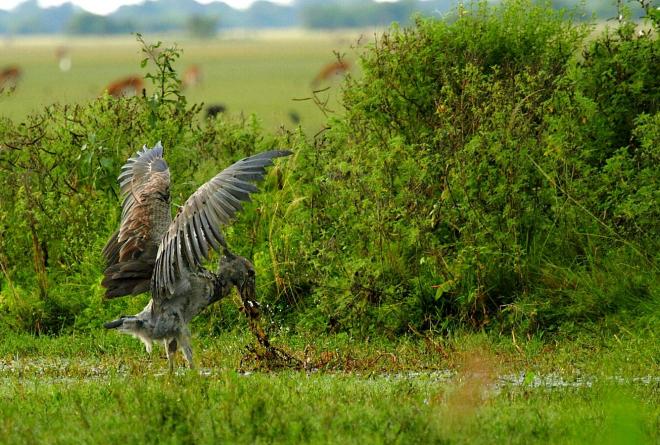 © Megan Loftie Eaton
Seymour: 
Seymour, a shoebill chick, was brought to Bangweulu Wetlands by a concerned local community member. The fisherman had heard that people were planning to steal the chick from its nest. In order to ensure shoebill nests are safe, Bangweulu employs local fisherman as "shoebill guards", to ensure chicks can fledge without human interference. Human-contact with Seymour was minimal to prevent imprinting, and resulted in the caretaker wearing a shoebill costume. During Christmas 2014, Seymour was released back into the wild, with a transmitter fitted in order to ensure that the park has the ability to monitor and track it.  
Seymour has adapted to life in the wild and most recently made an exploratory trip, leaving the swamps and flying downstream to the DRC side of the border and has subsequently returned and settled around Shoebill Island Camp. Raising and releasing Seymour was a success, without a doubt, and the park expects that it will find a mate and breed successfully
Russik:
ZAWA's Investigations and Intelligence Unit (IIU) confiscated Russik from the illegal wildlife trade and a year later it was brought to Bangweulu. Russik has completely imprinted on humans, as it was taken from the nest from a very young age, but despite this it has adapted very quickly to life in the park. 
Russik plays a crucial role in raising awareness about wildlife in the local communities and is seen by passers-by daily. Communities are gradually realising that they share the swamps with a very special species.  It is unlikely that this bird will be able to integrate fully back into the wild, but in its own small way Russik is contributing to raising awareness about the rare shoebill.