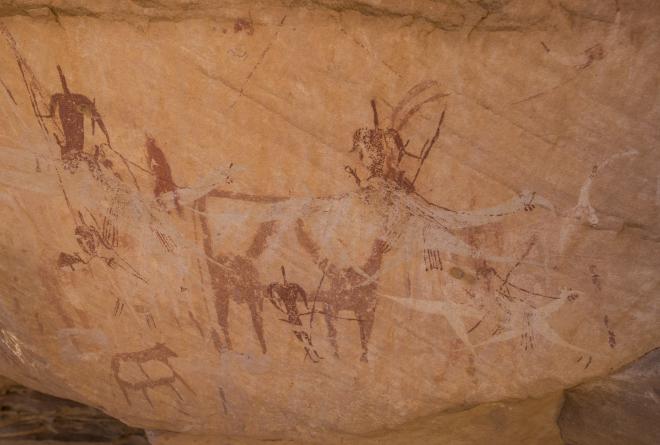 © Michael Viljoen
More than 100 rock art sites have been identified by Rocco Rava, the African Parks manager, evaluating the potential for Ennedi to be established as a wildlife and cultural protected area.  They include thousands of paintings and engravings in caves and on walls, some dating back 8 000 years.
In February, African Parks concluded a memorandum of understanding with the Chadian Government to assess the landscape, obtain an understanding of the people and pinpoint the challenges in establishing it as a protected area. Located in north east Chad, in the Sahara Desert, Ennedi is famous not only for its rock paintings but its towering rock arches and its quivering, yellow sands.  A portion of Ennedi falls within a proposed UNESCO World Heritage site.
Its rock art tells a story of the area before it was impacted by climate change, of the presence of elephant, giraffe, rhino, cheetah and ostrich. Paintings also vividly depict the lives of communities as highlighted by hundreds of scenes featuring warriors, herdsmen with cattle and dancing women.
Left unprotected, this rich tapestry of the region's archaeological history will continue to be eroded - through sandstorms, animal defecation, human contact with the art, and the pillaging of chunks of rock art to sell to tourists. It's just one of several reasons to restore and conserve this unique landscape. 
African Parks expects to conclude its assessment by November 2016 and will shortly thereafter present its recommendations to the Chadian Government for their consideration in establishing Ennedi as a protected area.