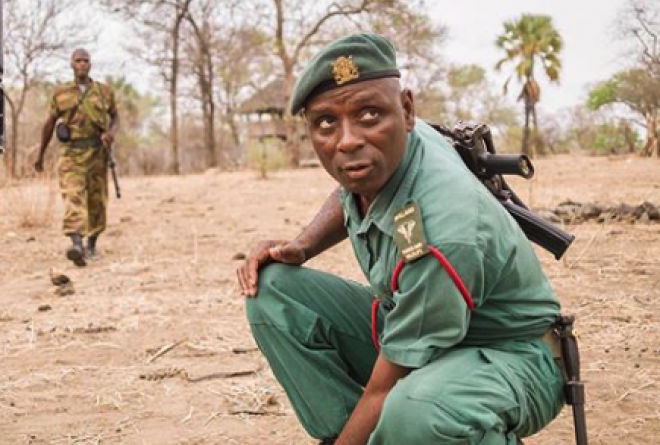 © Morgan Trimble
Do you remember the extraordinary man who never gave up on Majete Wildlife Reserve - Park Ranger Tizola Moyo? Mr Moyo represents one of the many Rangers on our team, whose efforts are made possible because of donations we receive from people like you – and for whom we'll be fundraising for tomorrow, on #GivingTuesday.
For 27 years, Mr. Moyo has dedicated his life to wildlife conservation in Malawi, 25 of which have been in Majete where he has maintained the incredible track record of not having lost one rhino or one elephant to poaching since their reintroductions in 2003 and 2006. When African Parks assumed management of Majete in 2003 in partnership with the DNPW, most of the wildlife had been hunted out – elephants, rhinos, lions, even buffalo; and the remaining scouts, including Mr Moyo were under-resourced and poorly equipped but he never lost hope and has been steadfast in his commitment to protecting the reserve, it's wildlife, and surrounding communities. In 2003, things began to change for the better when we were able to adequately resource the reserve, and equip our Rangers, like Mr. Moyo. Mr. Moyo has continued to play an instrumental role in securing the park and making it safe for the return of iconic species.
More than 2,500 animals have been translocated to the park since 2003, which today have grown to over 12,000. His courage has never wavered, even when he had few to no resources to protect the park all those years ago. This was apparent in 1995 when he and his ranger team were attacked by 10 armed poachers from Mozambique. Despite being outnumbered, Mr Moyo was able to hold his teams' ground and push the poachers out of the reserve. While there was tragically one casualty on his team, if not for Mr Moyo's quick thinking, bravery and leadership, the casualties would have been far worse that day.
Majete has come a long way since that time, and today is Malawi's leading Big Five reserve, where tourism is booming, and people and wildlife are benefiting from the parks' security. His is one of many stories of bravery that our rangers wear with pride, and we'd love for you to help us thank Mr. Moyo and all of our Rangers for their courage this #GivingTuesday. 
Please donate