Peter Fearnhead
For too long, good news in conservation has been the absence of bad news. However, this is no longer an acceptable outcome if we are to succeed in conserving Africa's natural heritage. African Parks was founded on the very premise that the remaining intact and wild landscapes of Africa can be successfully conserved, and even those that are degraded can be restored. Fundamentally, we believe that in the wake of conserving and restoring wild landscapes lies a better existence for mankind. And where nature is rehabilitated and restored, so too is our own humanity.
This was so apparent to me as I recently flew over Chinko, a 20,000 km2 landscape in the eastern part of the war-torn and ravaged Central African Republic. In 2014, we assumed management of this park which had suffered the brunt of decades of poaching, civil war and brutal ethnic violence. At the time, it was overrun by armed herders and over a hundred thousand cattle during the dry season. With the herders came poaching and poisoning of predators.
However, we signed a 50-year mandate, because we saw in this forgotten place possibility. Despite all these threats, remnant populations of almost all the key wildlife species had survived. They were still there, barely persisting, within this unique mixture of tropical forest and savannah that was still remarkably intact. This makes Chinko one of the largest ecosystems with the greatest conservation potential in all of Africa.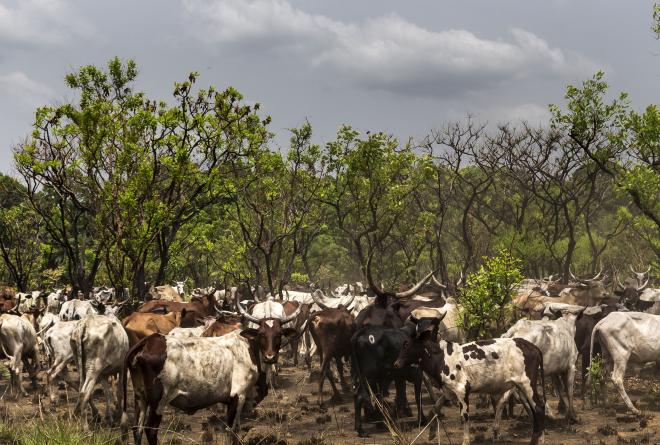 © Brent Stirton
In 2014 we saw nothing from the air other than cattle – not one wild animal, and game trails were almost nonexistent. Three years later, in a single flight, we saw buffalo, hartebeest, hippo, waterbuck and bushbuck. Other aerial patrols now have frequent sightings of herds of Lord Derby eland, bongo, roan antelope and even elephants. Lions can be heard calling at night. Life is finding its way back into a core protected area larger than Yellowstone National Park that our Chinko team has kept free of cattle, creating a sanctuary for nature. 2017 also saw the arrival of over 300 Internally Displaced People finding refuge from militias, who would almost certainly have slaughtered them were it not for Chinko's protection. We have often said that parks can be catalysts for regional stability, safety and security, and Chinko is proof of that.
Ecological restoration is a process of assisting the recovery of an ecosystem through active human intervention and action. This is central to the work we do across the continent in every park under our management.
Unfortunately, most remaining wildlife and wild ecosystems today need our direct and active protection, and all too often, extreme interventions to prevent them from disappearing altogether. Wildlife and our last remaining wild places are being destroyed because of human action, or inaction, and because of our own short-term greed.
However, the good news is that in as much as the crisis is man-made, so too are the solutions. This is no simple task for issues like climate change and human population growth, but there are immediate actions and solutions to preserving the last of the wild and even bringing back large parts of it. We know that intact ecosystems give rise to a range of benefits including healthy watersheds, clean air, stable weather, carbon sequestration, food security and overall better health for wildlife and people.
Preserving biodiversity and healthy, functioning systems could, in fact, be the most important solution to the world's most pressing problems, and therefore to our own long-term survival.
African Parks is now responsible for managing 14 protected areas in nine countries, spanning 10.5 million hectares (40,540 square miles) covering seven of the 11 ecological biomes on the continent. This is the largest and most ecologically diverse area under protection by any one conservation organisation on the continent. And it's no small undertaking. We maintain the largest counter-poaching force with 1,000 rangers and more than 5,000 full and part-time staff across the parks. In each one of these protected areas under our management, we are conducting a range of active management interventions – extreme species translocations and reintroductions, providing security to create safer spaces for both humans and wildlife, and ensuring that local people benefit, thus building constituencies for conservation. Where security is restored and governance established, we see the rise of civility, and the overall return to a better way of life.
2017 was a year of continued impact, including extending our footprint from 10 to 14 parks and surpassing our 2020 goal of reaching 10 million hectares under our responsibility.
It was also a year marked by historic translocations and reintroductions. This is why we wanted our 2017 annual report to focus on restoration – in celebration of the return of these species, and the overall transformation underway in the parks. Each park is on its own unique timeline of rehabilitation and restoration and I am proud to share some of these highlights as well as other key achievements during the year.
Executive Summary
The year began with tragedy, with a fatal helicopter crash in Chinko that claimed the lives of David Fine, Sous-Lieutenant Mbenga-Nzongomblo Ponce Pilate, and Shaun Barendsen. This was shattering for everyone, especially the families of the deceased. Our Chinko team, however, persevered valiantly and achieved tremendous success on the ground, keeping 10,000 km2 free of cattle all year round, allowing remnant wildlife populations an opportunity to return. In July, we found ourselves involved in a humanitarian crisis when over 300 Internally Displaced People (IDPs), mainly women and children, fled to the park for protection. In a country that is ruled by warring political and ethnic factions with no functioning peacekeeping force, these individuals would almost certainly have suffered a cruel death. We established an emergency fund of US$500,000 to address this crisis, which many of you generously responded to, allowing us to deliver life-saving measures.
As with Chinko, in Garamba we find ourselves being the only stabilising force in the region, and are often the only responders for civilians terrorised by the Lord's Resistance Army and other criminal groups. Garamba has been referred to as ground zero in the elephant poaching wars, and our team continued to hold the line for the remaining 1,200 elephants in the park.
Our revamped law enforcement strategy, which has been supported by the Wildcat Foundation and the EU, resulted in a 50 percent reduction in elephant poaching compared to the previous year.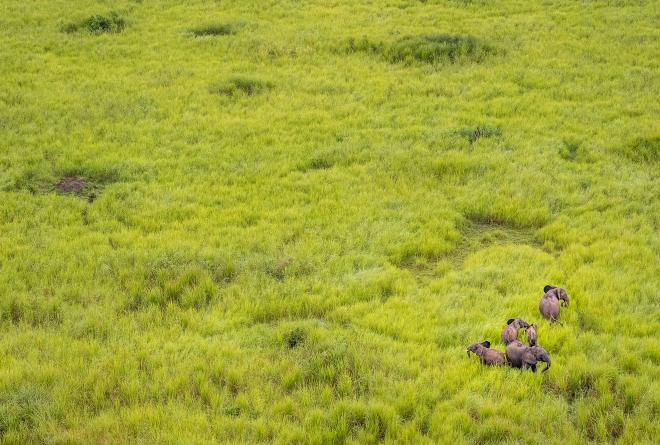 © Marcus Westberg
Thirty-nine elephants were collared in one of the largest elephant collaring exercises in Africa, with a total of 44 collars currently functioning in the park which are helping us to better protect them from heavily incentivised and armed poachers.
We completed elephant and gorilla surveys in Odzala in 2017, and preliminary results, unfortunately, indicated a possible decline for both species. While the reduction in numbers could be a function of animal movements, detection, and methodologies, the trends are concerning and could be an indication of poaching. While we will be conducting other surveys to verify our results, our top priority in 2018 will be building capacity to address any escalation in the poaching threat.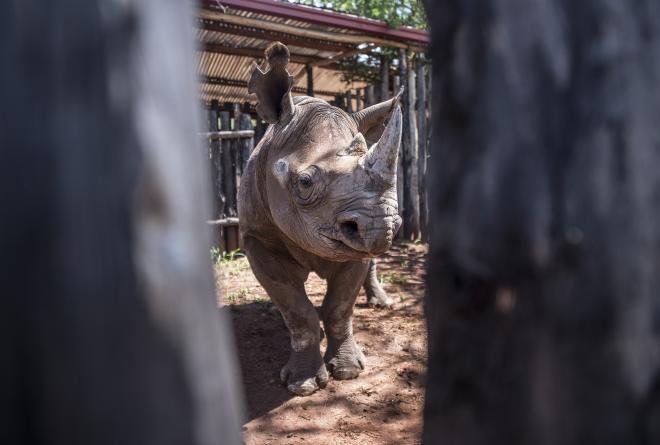 © Gael vande Weghe
In May, we successfully reintroduced 18 black rhinoceroses from South Africa to Akagera National Park in Rwanda, 10 years after they went locally extinct. This was possible because of the vision and commitments made by His Excellency President Paul Kagame and the Howard G. Buffett Foundation. After spending seven years securing the park and reducing poaching to an all-time low, Akagera was ready to welcome back this endangered species. Singing children lined the route between Kigali and Akagera, welcoming their return. It was a historic moment, not just for Rwanda but for the species and for conservation around the globe. The park received a record 37,000 tourists for the year, yielding US$1.6 million in revenue, making this park 75 percent self-sustaining.
However, as we experience far too often, there was little time to celebrate. A month after their arrival, our rhinoceros expert Krisztián Gyöngy, who had been researching rhinoceroses for more than five years and who was instrumental in the Rwanda translocation, was tragically killed by a rhinoceros in Akagera while training rangers.
In August, we completed the historic elephant translocation in Malawi, where 520 elephants in total were successfully moved from Liwonde National Park and Majete Wildlife Reserve and released into Nkhotakota Wildlife Reserve. This was an extraordinary undertaking and a remarkable achievement for all three parks.
The elephant translocation received global media recognition, heralding Malawi's commitment and leadership in conserving their elephants, while restoring Nkhotakota ecologically and economically for the benefit of local people.
Tourism is already on the rise in Nkhotakota and by reducing the pressure of Liwonde's elephant population, human-wildlife conflict has dropped dramatically, improving the lives of the surrounding communities. Poaching and snaring have also been brought down to an all-time low, which helped set the stage for two successful cheetah reintroductions carried out in partnership with the Endangered Wildlife Trust. Two of the females have already had cubs, and we closed the year preparing for the lion reintroduction in early 2018, all part of the vision of restoring predators back to Liwonde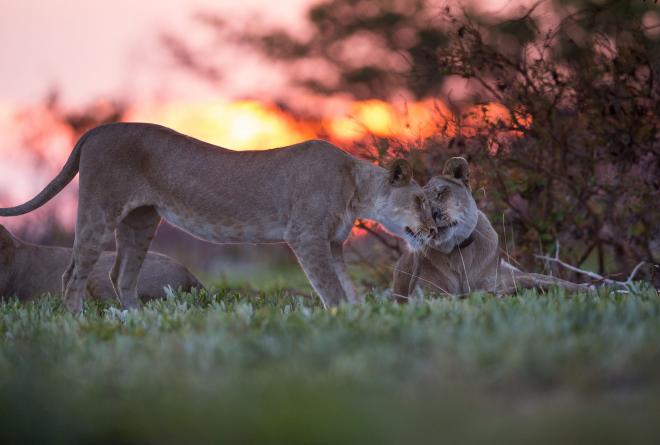 © Burrard-Lucas
In Liuwa Plain, we mourned the passing of the legendary Lady Liuwa, the last lioness who roamed the park for years on her own. We undertook several translocations over the years including an additional male in 2017 to help her establish a pride of her own. She died naturally, but not alone, at the extraordinary age of 18, leaving behind a growing pride including four new cubs which were confirmed in December. The long-awaited King Lewanika Lodge opened in the park in April to great acclaim, helping put Liuwa on the international map by being heralded by the New York Times and Travel + Leisure as a top destination in 2018. This will help bring needed visibility and revenue to support the wildlife and the thousands of people for whom Liuwa is home.
2017 was also an excellent year for increasing our conservation footprint to 14 parks. In May, we signed a long-term agreement with the Government of Benin for Pendjari National Park, the largest remaining intact ecosystem in all of West Africa, and a stronghold for the critically endangered West African lion and African elephant. The commitment from the Government of Benin in concluding this mandate so quickly was remarkable, as was their own financial contribution of US$6 million, which was supplemented by the Wyss Foundation and a groundbreaking US$7 million partnership with The National Geographic Society.
In October, we signed an agreement with the Government of Chad, expanding our mandate to manage 'Greater Zakouma' which includes Siniaka Minia Faunal Reserve and other critical corridors for wildlife. The Chadian Government also concluded an MOU with the South African Government, enabling African Parks to translocate a founder population of rhinoceroses to Zakouma, scheduled for May 2018, in large part because of our track record in restoring Zakouma. Survey figures from Zakouma in 2017 put the elephant population at over 527 individuals, indicating a continuing increase.
On 6 December, we signed a 25-year management agreement with the Government of Mozambique to manage Bazaruto Archipelago National Park, the first marine reserve in our portfolio, and a globally recognised seascape. The addition of these new parks is a testament to the commitment by governments who are determined to arrest the destruction of their natural heritage and to begin the process of restoring it for future generations. It is also a direct result of the transformational, multi-year pledge we received at the start of 2017 from the Wyss Foundation that enabled this expansion.
We are extremely honoured that Mr. Wyss, an exemplary and visionary conservationist, agreed to join our Board of Directors at the close of the year. During 2017, we concluded a strategic review of African Parks with the probono support of McKinsey & Co. This valuable exercise helped shape our perspectives on the future of the organisation and how we can continue growing our impact on the continent of Africa, the outcome of which was unanimously embraced by all three Boards.
Needless to say, there is tremendous momentum that we have every intention to build on in 2018 and beyond. Our successes are the successes of our government partners and funding partners alike. It often strikes me how so few people can make such an incredible impact for the benefit of so many. We could not do this work without you, and I extend my sincere thanks to you all.
Lastly, we could not have ended 2017 any better than announcing that His Royal Highness Prince Harry joined African Parks as our President. He will be working with the Board, myself and our staff to further our mission and advance conservation across the continent. We are extremely fortunate to have someone as committed to conservation as he is working with us, and welcome him to the African Parks family.
The year was filled with great advancements, and truly hopeful signs of gaining ground in conserving Africa's wild landscapes. But we know it is not enough, that we are in a race against time to secure the last of the wild before species are lost forever, and landscapes are beyond restoration. I'd like to end with an inspiring and stirring battle cry from the great scientist, E.O. Wilson, who in Half-Earth: Our Planet's Fight for Life, a book motivating the need to set aside half the surface of the Earth for nature, writes: "To those who are steering the growth of reserves worldwide, let me make an earnest request: don't stop, just aim a lot higher." And that's exactly what we intend to do.
Download the full Annual Report
Back >