Dear Friends
It's hard to believe another 12 months have passed, and what an extraordinary year it has been – with the addition of three new parks to the portfolio, and a steady cadence of important milestones reached, and significant gains made for wildlife and people along the way.

The year began with tragedy, when a fatal helicopter crashed in January in Chinko in the Central African Republic which claimed the lives of David Fine, Sous-Lieutenant Mbenga-Nzongomblo Ponce Pilate, and Shaun Barendsen. This was shattering for everyone at African Parks, but our Chinko team remained undeterred and made tremendous successes on the ground. In what is a war-torn region plagued by ethnic violence, coupled with the constant threat of illegal grazing, armed cattle herders and poachers, our team managed to secure this 18,000km2 landscape throughout the year, keeping key threats at bay and outside of this vast landscape. Growing herds of eland are being frequently sighted; increasing signs of lions and elephants are being documented; and animals are finding their way into the core area free of threats. And while wildlife are finding safe heaven within the parks boundaries, so are people. In July, we found ourselves involved in a humanitarian crisis when nearly 300 Internally Displaced People (IDPs) mainly women and children, fled to the park for protection to prevent themselves from being slaughtered. We established an emergency fund of $500K to address this crisis, which many of you responded to, allowing us to deliver life-saving measures.

In Garamba National Park in the Democratic Republic of Congo, often referred to as ground zero in the elephant poaching wars in Africa, our team has held the line for the remaining 1,300 elephants in the park. Thirty-nine elephants were collared earlier this year in what was one of the largest elephant collaring exercises, with a total of 44 currently functioning collars which are helping us better protect them. Because of our revamped law enforcement strategy, elephant poaching has been reduced by 50% compared to last year. Like in Chinko, we find ourselves being the only stabilizing force in the region, and often the first responders for civilians terrorized by the Lord's Resistance Army and other criminal groups. Protected Areas are increasingly the primary source of stability and security in some of the destabilized regions of Africa, for the benefit of both people and wildlife.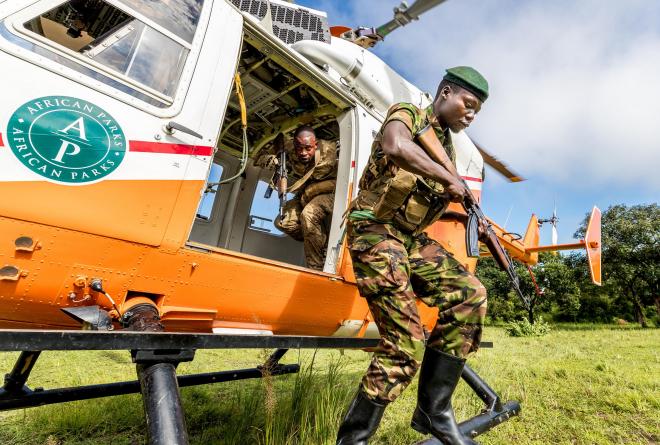 © Marcus Westberg
For wildlife, 2017 was a year of restoration and homecomings. In May we reintroduced 18 black rhinoceroses from South Africa to Akagera National Park in Rwanda, ten-years after they went locally extinct. After spending six years securing the park and reducing poaching to an all-time low, Akagera was ready to welcome back this endangered species. Singing children lined the streets and welcomed their return. It was an historic moment, not just for Rwanda but for the species and for conservation around the globe. And, subsequent to the reintroduction, two calves have been born. 
All of this was made possible because of the commitments made by the Howard G. Buffett Foundation, President Kagame and ourselves in what has been an extraordinary partnership over the years.But as we see far too often, there is little time to celebrate. A month after their arrival, our rhino expert Krisztián Gyöngy who had been researching and tracking rhinos for more than five years in Malawi and who was instrumental in the Rwanda translocation, was killed by a rhinoceros in Akagera while on the ground training rangers. It was another devastating blow and a tragic reminder of all that is fleeting, and at stake, in the fight for Africa's wildlife.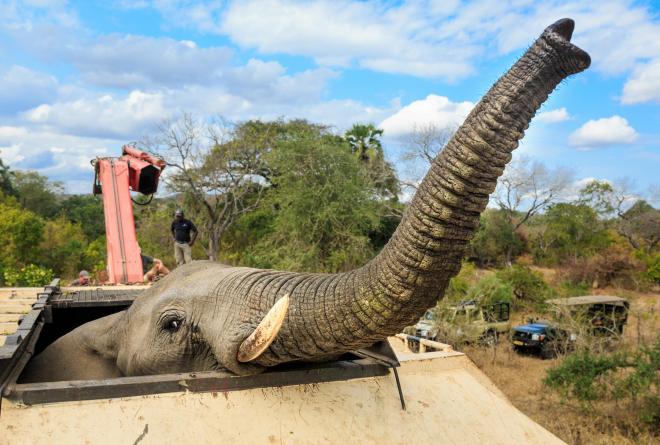 © Frank Weitzer
In August we completed the historic elephant translocation in Malawi, where in total 520 elephants were successfully moved from Liwonde National Park and Majete Wildlife Reserve and were released in Nkhotakota Wildlife Reserve. This was an extraordinary undertaking and a remarkable achievement for all three parks. The translocation received global media recognition heralding Malawi's commitment and leadership in conserving their elephants, while restoring Nkhotakota ecologically and economically for the benefit of local people.
Tourism is on the rise in Nkhotakota and by reducing the pressure of Liwonde's elephant population, human wildlife conflict has dropped dramatically with not one human fatality since 2016. Poaching and snares are also at an all-time low for Liwonde which helped set the stage for two successful cheetah reintroductions we carried out in May and early December with support from the Endangered Wildlife Trust. Two of the females have already had cubs; and we are currently preparing for the lion reintroduction in early 2018.
2017 was also a good year for bringing on new parks and increasing our conservation footprint to 13 parks measuring seven million hectares under management. In May, we signed a long-term agreement with the Government of Benin for Pendjari National Park, the largest remaining intact ecosystem in West Africa, a stronghold for the critically endangered west African lion, and largest remaining population of elephants in the region. In October, we signed an MOU with the Government of Chad essentially doubling our footprint in the country and expanding our mandate to manage 'Greater Zakouma' which includes Siniaka Minia Reserve and other critical corridors for wildlife. The Chadian Government also signed an MOU with the South African Government enabling African Parks to translocate a founder population of rhinoceroses to Zakouma in May 2018, in large part because of our track record in restoring that park. The most recent survey figures from Zakouma put the elephant population at over 550 individuals, indicating a continuous rise since last year. On December 6th, we signed a 25-year management agreement with the Government of Mozambique to manage Bazaruto Archipelago National Park, the first marine reserve in our portfolio, and a globally recognized important seascape. The addition of these new parks is a testament to the governments who have invited us in and are entering into these public-private-partnerships, as well as due to the transformational, multi-year matching pledge we received earlier this year from the Wyss Foundation for new parks.

During the year we concluded a strategic review of African Parks with the pro-bono support of McKinsey and Co. This helped shape our perspectives on the future of the organization and how we can continue growing our impact on the continent of Africa. Needless to say, there is tremendous momentum which we have every intention to build on in 2018. All of this is only possible because of our funding and political partners. We couldn't do this work without you and I extend my sincere thanks to you all. 

In closing, the announcement of Prince Harry joining African Parks as our President is a fitting way to end the year on a high note. He is extremely committed to conservation and will be working with us to further our mission and advance conservation around the globe. This announcement was made during the BBC Radio4 Today Program, which included a segment about the story of Zakouma's transformation. In case you missed it, you can access the announcements and BBC segments  here.
With best wishes for the holiday season and to an exciting year ahead,
Peter Fearnhead 
CEO
African Parks