Understanding South Sudan's once-forgotten landscape through mass wildlife monitoring
In August 2022, African Parks signed a 10-year renewable management agreement for Boma and Badingilo National Parks with the Government of the Republic of South Sudan. Since then, the task of establishing an effective approach to manage over two million hectares of thriving biodiversity, in a largely unknown landscape, has been mammoth. We sent writer and photographer, Marcus Westberg, to find out more.
Early on the 18th of April, a male white-eared kob was fitted with a tracking collar in South Sudan's Badingilo National Park. He was the 126th animal to be collared in Badingilo and adjacent Boma National Park, marking the end of several weeks of intense, groundbreaking work in what is proving to be one of Africa's most spectacular wilderness areas.
"The scale of this undertaking, and the amount of data we will be able to collect, is remarkable," says Dr Richard Harvey, who led the collaring operation alongside giraffe expert, Dr Sara Ferguson.
African Parks began their tenure in Boma and Badingilo in September last year, having signed a 10-year management agreement at the request of the Government of the Republic of South Sudan. During the first few months, reconnaissance flights revealed wildlife in numbers far greater than even the most optimistic experts had predicted. Boma-Badingilo is home to hundreds of thousands of migrating antelope. At least.
"There are probably millions of white-eared kob here. Maybe two million, maybe more. And hundreds of thousands of tiang, Mongalla gazelle and reedbuck," says Mike Fay, African Parks Regional Director and National Geographic Explorer Emeritus. Fay first visited the region in 2007. Since November 2022, he has flown 50,000 kilometres across the landscape, and believes there is nowhere else in Africa quite like it.
"No place in Africa even comes close to the intact nature of this land, the ecosystems or the wildlife here. Not even in the same ballpark."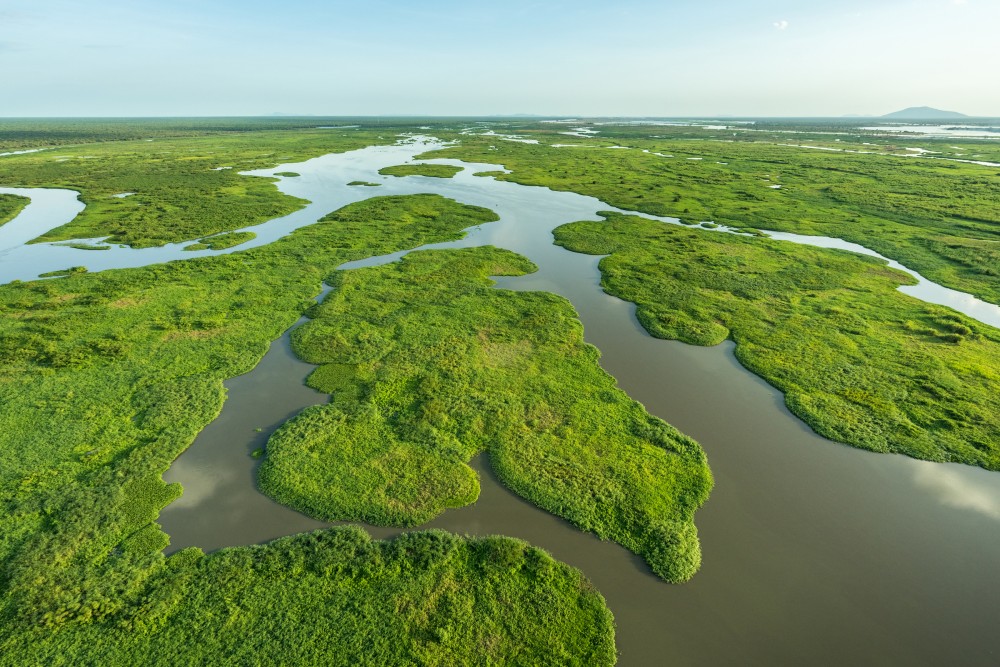 © Marcus Westberg
Wildlife Collaring
Covering nearly three million hectares, Boma and Badingilo national parks form an integral part of a wilderness, spanning as much as 200,000 square kilometers in South Sudan and neighbouring Ethiopia. The potential for biodiversity conservation at scale across this region is endless, but so too are the challenges. After decades of civil unrest, infrastructure is virtually non-existent – access to most of this area is almost exclusively by air or on foot – and until a few months ago, very little was known about the antelope migration or the status of other wildlife species across the two parks.
"Until we started collaring, we didn't even know there were cheetahs here. And I think we may have discovered a new species of frog," claims Dr Harvey.  
The collaring is part of African Parks' efforts to come to grips with its latest and largest undertaking. Devising sustainable management practices to protect the area's vast numbers of wildlife is only possible once their movements are clearly understood. In order to achieve this, 126 individuals from 12 different species were fitted with tracking collars, among them Nubian giraffe, lion, cheetah, eland, elephant and buffalo, as well as the four species of migrating antelope. The next step will be even more gargantuan: aerial surveys to establish accurate estimates of wildlife population numbers.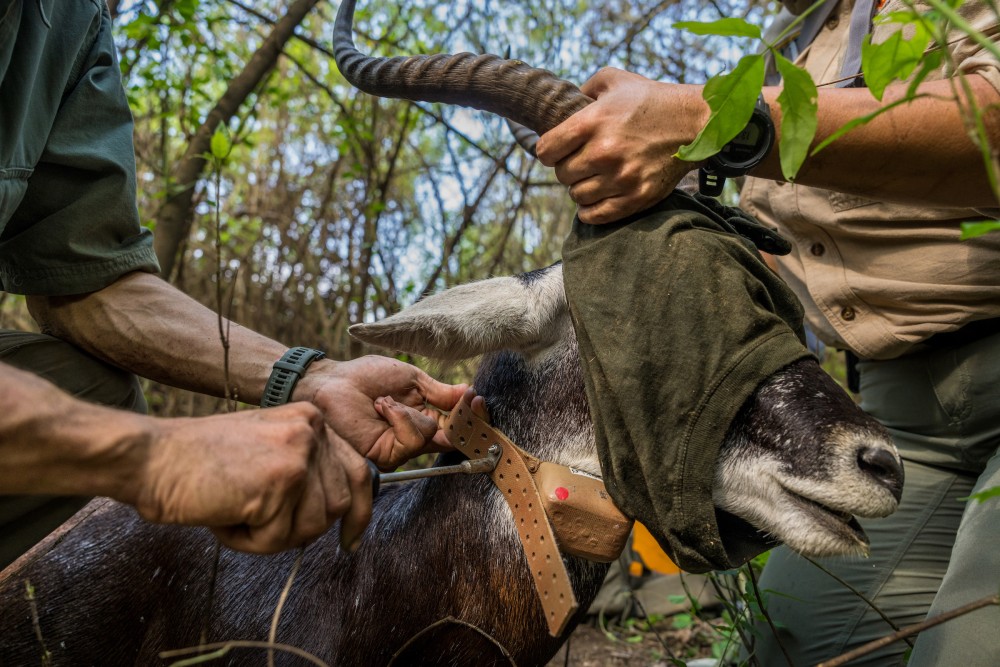 © Marcus Westberg
Establishing a Footprint
Alongside familiarising itself within the parks and collaring wildlife, the African Parks team has had its work cut out over the past months establishing the groundwork for effective park management. Ranger training, infrastructure improvements and administrative processes are all part of setting up the long-term management of the parks.
Honourable Rizik Zakaria Hassan, Minister of Wildlife Conservation and Tourism, joined the collaring team in Badingilo, and praised the new partnership.
"Even in this short period, it has been beyond expectations. The headquarters are being repaired, airstrips created and now this collaring operation. Nothing like this has been done here before. I think, already we have reached a milestone for conservation in South Sudan."
Community relations
In addition to being home to astonishing ecological diversity, Boma-Badingilo also harbours a rich and ancient human culture. Inside the parks, thousands of people from various ethnic groups, including the Murle, Jie, Anuyak and Nuer, tend to their cattle, hunt and forage as the seasons change. Implementing positive community relationships is crucial for this project to succeed and has been a priority for African Parks during the past six months.
"Since we arrived here, we've begun visiting the communities in and around both parks, whether they're in cattle camps or towns, to meet with their leadership and other community members," explains Fay. "Our aim is to introduce ourselves and tell people about what we are trying to accomplish in the landscape, which is to help manage this incredible wildlife resource that belongs to these people."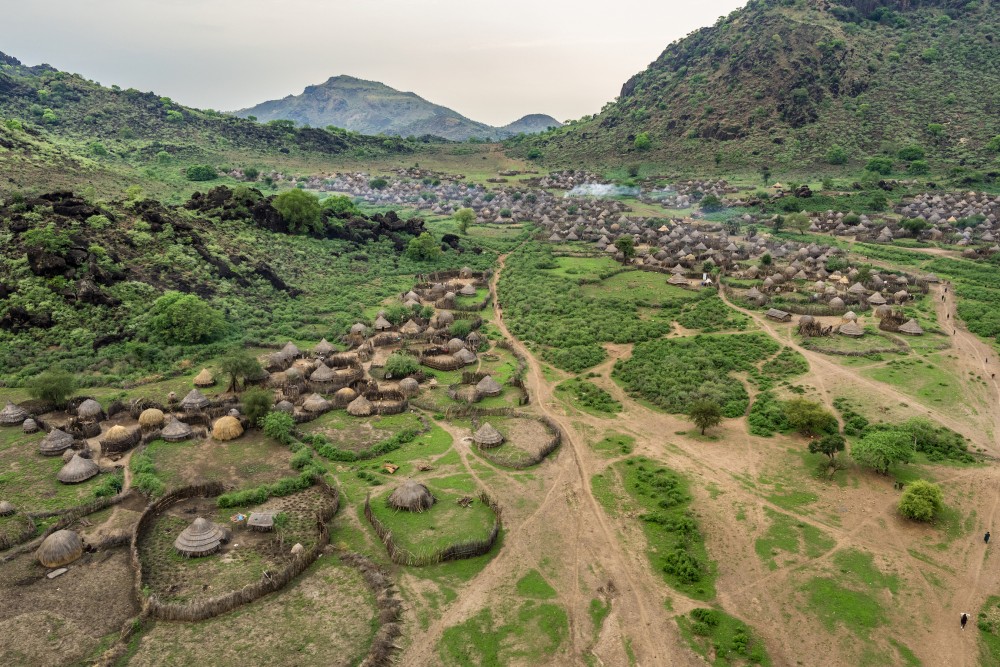 © Marcus Westberg
Looking ahead
With the collaring operation coming to an end and the aerial surveys about to begin, the feeling of optimism for this once forgotten landscape is tangible. The brutal civil wars that have shaped the geopolitics of this region both pre- and post-independence from Sudan in 2011, may inadvertently have saved much of its wildlife from overexploitation, but the impact on the human population has been devastating. Now, with the South Sudanese civil war officially ended, the hope is that people and wildlife can prosper together.
For Minister Hassan, the long-term goal is clear: establish Boma-Badingilo as a globally-renowned protected area and make South Sudan safe for visitors.
"From our perspective at the Ministry of Wildlife Conservation and Tourism, we are on the right track, and I'm quite sure this partnership will be extended to other areas. We are determined to make this work."
The people of South Sudan, he explained, have never had reason to believe that protecting wildlife could bring them economic benefits, but he believes this is about to change as the partnership with African Parks begins to take hold.
3 May 2023 - Marcus Westberg
Your Support Goes a Long Way
At African Parks we are working everyday to protect Africa's last wild landscapes. By donating to us, you are making a difference and are giving hope to people and wildlife across the continent.
Donate