Kigali, Rwanda: This was an historic move for the nation and the species which was undertaken by African Parks, a conservation non-profit that manages national parks and protected areas on behalf of governments across the continent, in collaboration with the Rwanda Development Board and with funding provided by the Howard G. Buffett Foundation.
A founder population of 18 Eastern black rhinoceroses were translocated from South Africa in two rounds – ten were delivered on May 2nd and eight on May 9th to Akagera National Park in Rwanda. The People's Postcode Lottery and the Dutch Government also provided additional support to the project.
Back in the 1970s, more than 50 black rhinos thrived in Akagera National Park, but their numbers declined under the pressure of wide-scale poaching until the last confirmed sighting of the species in 2007. This translocation of an endangered and iconic species, severely threatened due to rampant poaching for the illegal market in rhino horn, is one of numerous conservation milestones for Rwanda. "The return of the rhino to Rwanda is significant" said His Excellency President Paul Kagame. "We will look after them, and are doing our part to ensure that natural systems are complete to sustain our environment for conservation, and for the benefit of our people".
The rhinos made their 4,000-km journey from South Africa via cargo plane, where they were met at the Kigali airport, transferred in their independent crates by trucks in a police-supported convoy, and then made the four-hour drive to Akagera National Park. The rhinoceroses were greeted with fanfare and a warm homecoming as local school children living near the park lined the streets holding welcome signs and sang to celebrate their arrival. The rhinoceroses were then released into individual bomas, where they were monitored for 24 to 48 hours before being released into the wider park. This founder population has been microchipped and are being tracked daily; and some lucky tourists have already had encounters with a few individuals since their release.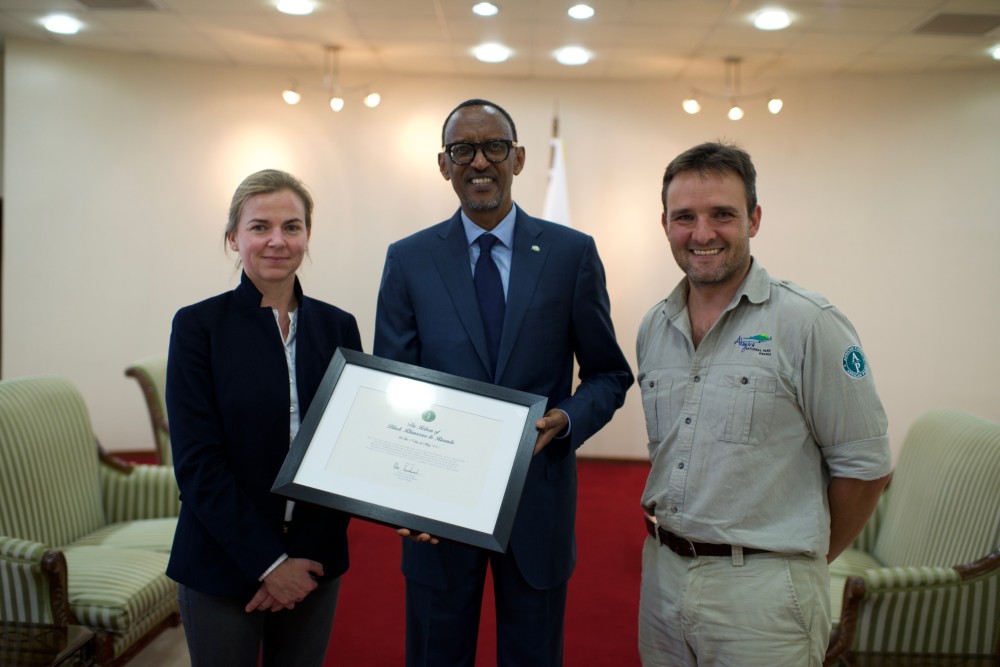 The park, which is a protected savannah habitat in Rwanda and contains excellent black rhino habitat, has undergone a remarkable transformation since African Parks assumed management in 2010 in partnership with the Rwanda Development Board. "In just six short years we have managed to overhaul law enforcement reducing poaching to an all-time low" said Peter Fearnhead, CEO of African Parks. "Along with the rhinoceroses return, we brought lions back in 2015 and their population has since doubled. Tourism revenue has increased by over 550%, and today the park is ecologically and economically flourishing. This is a testament to Rwanda's commitment to conservation, and our partnership in realizing the restoration and effective management of Akagera National Park".
Security measures have been implemented specifically to ensure the long-term safety and well-being of the rhinos once in the park. This includes an expertly-trained rhino tracking and protection team, a canine anti-poaching unit, and the deployment of a helicopter for critical air surveillance to enhance protection of the park – all made possible with funding provided by the Howard G. Buffett Foundation.
"Over a decade ago, returning rhinos to Rwanda was a conversation, and a promise I made to President Kagame," said Howard G. Buffett, Chairman and CEO of the Howard G. Buffett Foundation. "On May 2nd 2017 our collaboration with African Parks made this a reality and shows to the conservation community, and to the world, what is possible when a few committed people put their minds to it".
The Howard G. Buffett Foundation has a 20-year history supporting conservation and development in Rwanda. "It's a very good and productive partnership" continued President Paul Kagame; "there is a mutual respect, confidence and belief in what we – the Rwandan Government, the Howard G. Buffett Foundation, and African Parks, are achieving. Akagera serves as an example of what can be done for conservation. We have come together to create something sustainable and people can see the results themselves".
With fewer than 5,000 black rhino remaining across their range in the wild, of which approximately 1,000 are the Eastern black rhino subspecies, this reintroduction is an urgent, progressive, and valuable opportunity for their conservation, and serves as a story of hope for the species.
Visit www.rhinomove.org  to learn more.