His Majesty the Litunga of the Barotse Royal Establishment Celebrates Over a Century of Conservation in Liuwa Plain National Park in Zambia, with the Official Opening of King Lewanika Lodge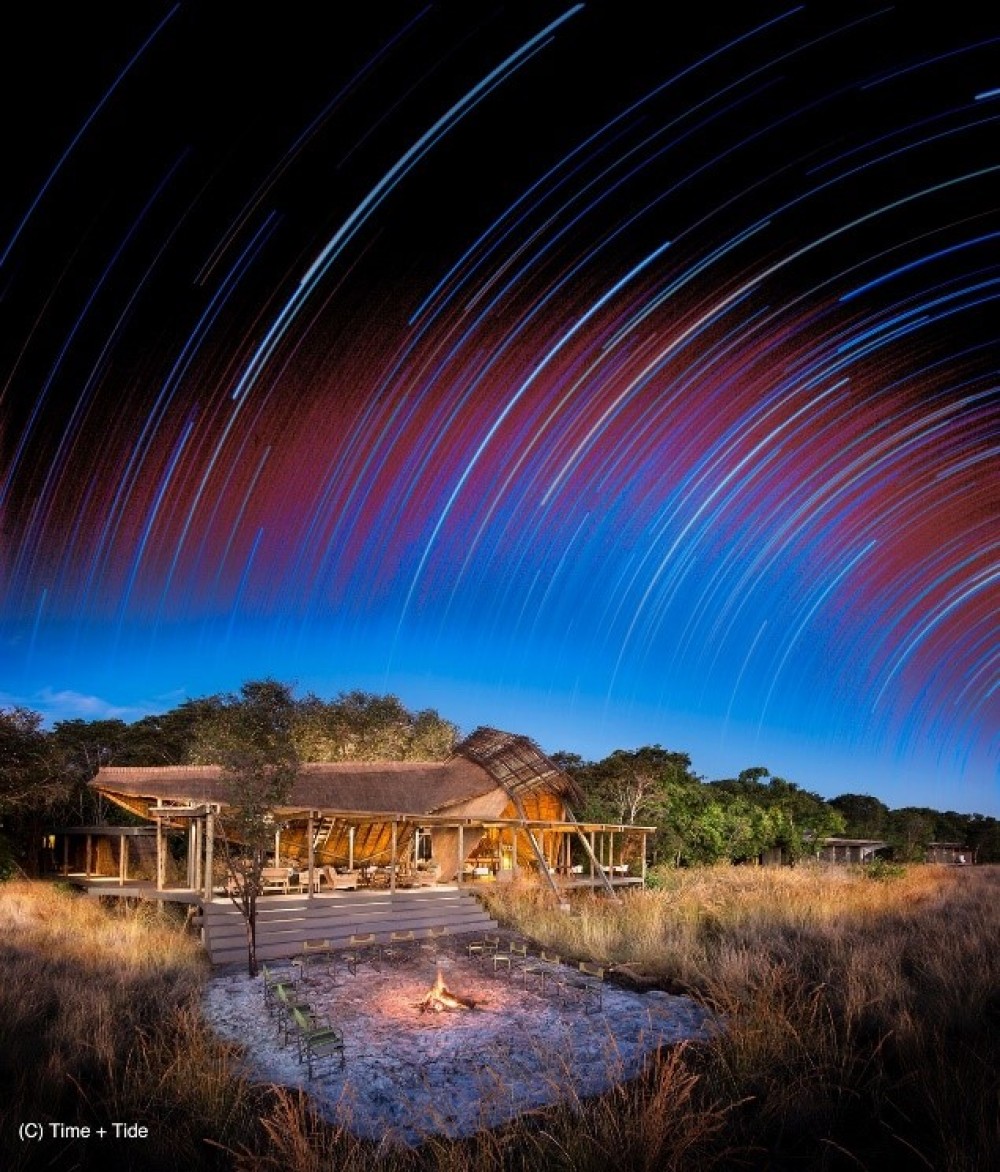 Lusaka, Zambia: On Thursday 20th June 2019, His Majesty the Litunga Lubosi Imwiko II officially opened the King Lewanika Lodge in Liuwa Plain National Park in Zambia. The event commemorated over a century of conservation where traditional custodianship under the Barotse Royal Establishment (BRE) has maintained a remarkable coexistence between people and wildlife. Liuwa Plain, managed by African Parks in partnership with the Department of National Parks and Wildlife (DNPW) and the BRE, is one of Africa's most important grassland ecosystems, annually hosting the second largest wildebeest migration on the continent. The official opening of this world class lodge, operated by Time + Tide, is a testament to this history and partnership in restoring Liuwa Plain as a globally important wilderness destination, and as a thriving landscape for people and wildlife.
Presided over by His Majesty the Litunga Lubosi Imwiko II, the event on Thursday hailed the development of King Lewanika Lodge as a significant step in the economic revival of the park. "We are extremely proud of what we have achieved through our partnership to revitalize Liuwa Plain. In sixteen years of working with African Parks and the DNPW, we've seen the park transformed. Thousands of people are benefitting from a range of community programmes, populations of iconic wildlife including the park's legendary predators and wildebeest populations are increasing, and people are visiting from all over the world, increasing revenue collection for the park." Said the Ngambela, Manyando Mukela. "The opening of King Lewanika Lodge has further increased Liuwa's profile as a top tourism destination and as a great asset for our communities and Zambia as a whole."  The ceremony was attended by senior officials and representatives of the BRE's Royal Household, the Zambian Government, DNPW, African Parks and Time + Tide, and other key stakeholders.
"Few places have such a rich conservation history as Liuwa Plain. This important national park is thriving today because of the leadership of the Barotse Royal Establishment, which began over 100 years ago with King Lubosi Lewanika in the late 19th century through to His Majesty the Litunga Lubosi Imwiko II today" said Peter Fearnhead, CEO of African Parks. "Our partnership with the BRE and the Zambian Government over the past 16 years, and more recently with Time + Tide, has helped in restoring the park's wildlife and in securing a better future for the local people who live within and around the park".
Liuwa Plain is one of Zambia's most important natural treasures. Each year, it hosts the world's second largest wildebeest migration, during which more than 40,000 animals move in long lines across its vast grasslands. In 2003, African Parks, DNPW and the BRE pioneered a unique public-private partnership to ensure the protection of the park and the 15,000 people living within it, promoting socio-economic growth and creating opportunities for local communities to derive long-term benefits from a healthy, functioning ecosystem. Security has been overhauled, staff recruited and trained, infrastructure implemented and extensive community programmes initiated to improve livelihoods. Among these include the provision of educational and healthcare support, water points in villages, employment and sustainable livelihood projects. Wildlife populations have proliferated over the past decade, and key predators have started to flourish once again.
"This occasion is a true testament to the progress that has been achieved in Liuwa as a result of our public-private partnership with African Parks and the BRE, and highlights the essential role of tourism in conservation as a driver of sustainable development and economic growth both locally and nationally." Said the Honourable Minister of Tourism and Arts Charles Banda, "By supporting a significant population of people within the park while realizing positive conservation outcomes, Liuwa sets a hopeful example for conservation on the continent".
Coupled with the opening of Time + Tide's King Lewanika Lodge, these developments have contributed to Liuwa's emergence as a coveted wilderness destination, attracting increased numbers of tourists and enabling communities to benefit directly from conservation. "We are incredibly proud of King Lewanika camp, the contribution it is starting to make to the local communities and the prominence it has given Zambia as a unique safari destination. We feel very privileged to share in this venture with African Parks and the BRE. We truly believe this type of relationship is the future of conservation in Africa" Said Dave Wilson, COO of Time + Tide.
King Lewanika Lodge in Liuwa Plain has been featured as a top travel destination in leading international publications, including The New York Times "52 Places to go in 2018", Conde Nast Traveler, the Financial Times, Travel + Leisure and in TIME Magazine's World's Greatest Places 2018. Its development was possible thanks to the support of dedicated donors and the Board of Stichting African Parks Foundation in The Netherlands.
Partners
About African Parks: African Parks is a non-profit conservation organisation that takes on the complete responsibility for the rehabilitation and long-term management of national parks in partnership with governments and local communities. With the largest counter-poaching force and the most amount of area under protection for any one NGO in Africa, African Parks manages 15 national parks and protected areas in nine countries covering over 10.5 million hectares in Benin, Central African Republic, Chad, the Democratic Republic of Congo, the Republic of Congo, Malawi, Mozambique, Rwanda, Zambia. For more information, visit www.africanparks.org, Twitter, Instagram and Facebook 
About the Department of National Parks and Wildlife: The Zambian DNPW works to protect and conserve Zambia's wildlife estates and to improve the quality of life among communities and maintain sustainable biodiversity. We began our work with the DNPW in Liuwa Plain National Park in 2003 and in the Bangweulu Wetlands in 2008.
About the Barotse Royal Establishment: The BRE is recognised by the Zambian Government as an official administrative entity in the Barosteland region, and as such, is an essential partner in the Liuwa Plain project. His Majesty Lubosi Imwiko and the Limulunga Kuta (parliament) played an instrumental role in convincing the Zambian Government to conclude an agreement with African Parks in 2003, and have maintained an active role in guiding the project through the participation of two BRE representatives on the Liuwa Board.
About Time + Tide: Venturing to the remotest parts of the continent, Time + Tide's family owned safari properties span Zambia and Madagascar. We offer a modern-day explorer the luxury of time and space and the chance to feel fully alive. Original founders, Norman Carr and the Liebenberg family, are credited as leaders in responsible tourism. Today, almost 70 years on, we continue to revolutionize the industry through new, intimate properties in untapped locations where guests can experience authentic interaction with nature's wild places. Across land and sea, our people take extraordinary care in sharing our deep appreciation for the land, wildlife and culture. We've pioneered a more grounded tourism experience, rooted in conservation and synonymous with Africa's history of ecotourism and preservation.
Resources
Photo and video assets are available here

For more information on Liuwa Plain and how to visit, click here
Media Contact
Fran Read, African Parks
franr@africanparks.org, +27 (82) 3837558
Watch and experience the magic and culture of Liuwa Plain