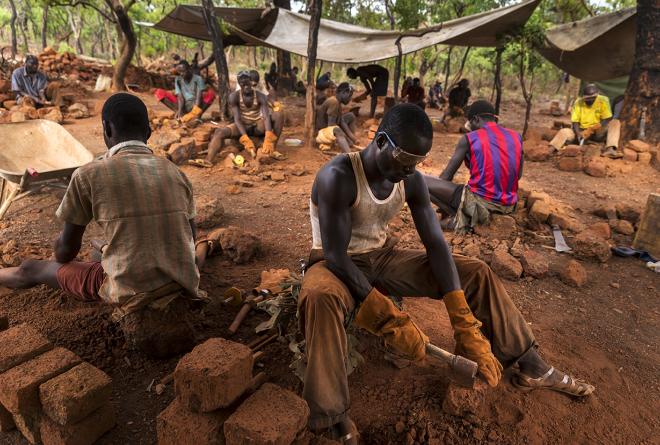 © Brent Stirton
Good governance is essential for our success which is why each park is established as a separate legal entity registered in the host country. Every park is set up with a Board of Directors representing partner institutions, key stakeholders, and African Parks; and each board is accountable to the Government. To deliver good management, tremendous infrastructure is required including installing the entire communication networks, building structures for thousands of staff, and grading thousands of kilometers of roads every year. When appropriate, perimeter fencing is installed to ensure local people are protected from conflict with wildlife.
Communication and technology has been delivered and implemented across 10 parks under management. Six parks use satellite tracker's (i.e Garmin Inreach) to monitor rangers for safety and accountability purposes. Digital Radio Systems have been installed and are utilised at 10 parks; 12 Spidertracks have been installed in aircrafts at eight parks; two parks installed trackers on their vehicle fleets; and VSat infrastructure has been installed at 10 parks. A LoRa network is being set up in two parks to test the viability of additional asset tracking.
Just last year, more than 250 structures have been built including offices, houses, and operation rooms, and 1,525 km of roads have been maintained across the parks. In Liwonde in Malawi, more than 143 km of electrified perimeter fencing has been installed, 73 fence monitors employed, and as a result zero people have been killed in human-wildlife conflict since July 2016.
Our footprint is immense but we create a platform for the long-term future for each and every park, and the outcome is an effective management footprint ensuring accountability and transparency, good governance and donor confidence to manage protected areas and achieve results.
Infrastructure Development
A tremendous amount of infrastructure is required in order to manage a park properly. Many parks have very limited, if any infrastructure at all, so roads, bridges, telecommunications, workshops, headquarters and staff housing often need to be built from scratch. Fencing is also an important part of infrastructural development, particularly when there is a hard boundary between the park and the community, and the park is home to animals which could have a negative impact on the lives of local people – such as predators who feed off livestock and elephants who raid crops. In these circumstances, fences are critically important – not to keep communities out, but to keep animals in.
Conflict Mitigation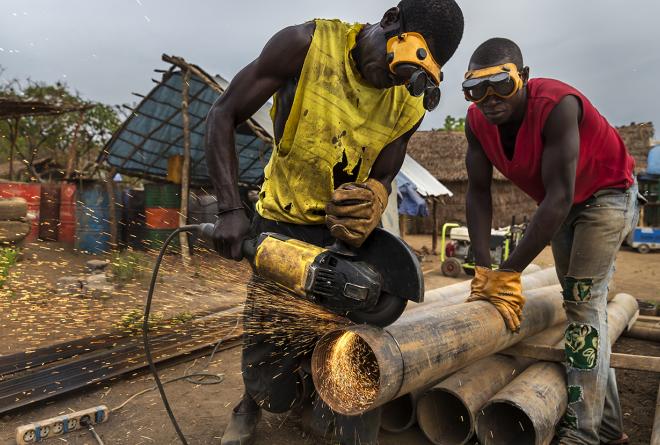 © Brent Stirton
Whether communities live on the periphery of the parks or legally within park boundaries, both are likely to feel the effects of living near wildlife. As many people rely on subsistence farming to survive, their crops are often raided by elephants and other animals, while predators may prey on livestock. This results in diminished livelihoods and a reduced tolerance for living with these species, which can lead to retaliatory measures, some of which are fatal, and only escalate the problem. Our park management involves working with local communities to devise conflict mitigation schemes, such as animal-proof fencing or other techniques, to prevent and reduce levels of conflict, to ensure the safety of both people and wildlife.
Technology
African Parks has installed the Domain Awareness System (DAS) developed by Vulcan technologies in six parks. The purpose of the system is to aid real-time monitoring and awareness of what is happening in a reserve at any given time, to support park management and reduce the risk of poaching. To achieve this goal, African Parks began with the foundations, installing VSat satellite communication technology at park headquarters where GSM was not available. Digital radio technology was installed in parks where it is possible to allow for two-way voice communication and real time tracking of ranger teams. Where the terrain and environment does not support radio communication, Garmin InReach devices are used for two-way text communication and tracking. Aircrafts are fitted with SpiderTracks, a satellite based tracking system allowing us to always know here our aircrafts are and pilots can send an SOS if ever needed. As part of our conservation work, key wildlife species and individuals are fitted with satellite and VHF collars to allow for easy monitoring.
We are always on the lookout for new technology solutions and are currently trialing a LoRa network which allows us to put a sensor on virtually anything, whether it be the K9 anti-poaching dog unit or monitoring whether a gate is open or closed.
If you are interested in supporting any element of our work, from human-wildlife conflict mitigation schemes, to telecom and critical communications needs –we'd love to hear from you and will put your donation to good use, where 100% of your gift goes to the parks, where it's needed most.
Donate Now >